Poster expressing support for LGBTQ+ community removed at Cougar Valley Elementary
A poster that expressed support for the LGBTQ+ community was removed from a band room at Cougar Valley elementary at the direction of the principal and CKSD Director of Equity.
Earlier this fall a poster was removed from a band room at Cougar Valley Elementary. The poster said "gay, lesbian, bisexual, transgender, love has no gender." The decision of this poster removal was at the order of the Cougar Valley Principal and Central Kitsap School District administrators under the grounds that it wasn't 'age appropriate'. The decision to remove it has come with some support but lots of push back.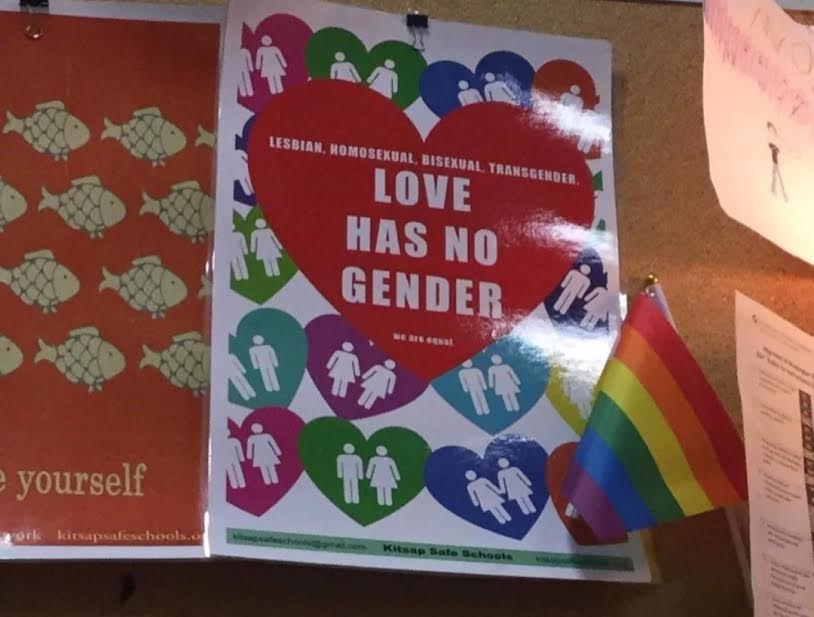 In Central Kitsap High School there has been lots of protest against this decision. Many staff members have taken to hanging up the same poster that was taken down. Some staff members have ordered hundreds of the same poster. 
Wendy Kassler, a teacher at CKHS, and advisor for the Gender Sexuality Awareness Club, is one of the teachers who has the poster hanging up.
"Do I agree with that decision?" Mrs. Kassler said. "No I don't. I believe that children, all children of all ages need positive affirmation of their sexuality and gender from the very beginning."
 Mrs. Kassler also believes that elementary students shouldn't have to ask to get support from staff, but rather that the school should be, "openly welcoming to all families and students."
Right after the poster was removed a school board meeting was held via Zoom. Mrs. Kassler made a post via the GSA Google Classroom which read:
"Here is the form to fill out to make a public comment at tomorrow's board meeting at 6:00.  Would you please comment below to let me know if you plan on listening or making a comment during the meeting?" 
After this post, many students from GSA and all across the district in opposition to the removal of the poster attended the school board meeting. 
However not everyone attending was against the removal of the poster. One parent who spoke at the meeting clearly stated that they were in support of the removal.
"Some of us prefer monogamous adult experiences," Rachel, a CKHS parent, said. "You know, it's just not okay for our kids, from our religious perspectives, to be put in classrooms where they're putting posters up with those kinds of messages."
In an email that was later sent out to staff and parents by Superintendent Dr. Erin Prince and Director of Equity Jeni Zapatka the following was stated,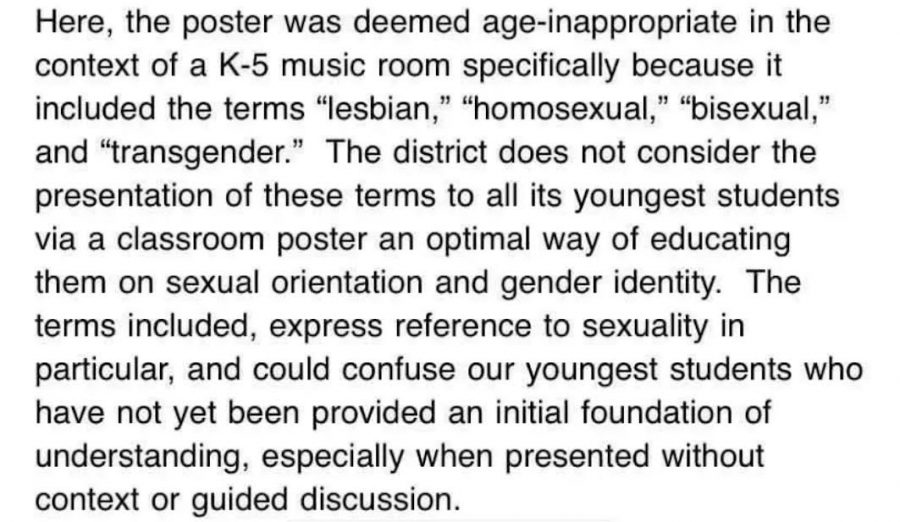 "Here, the poster was deemed age-inappropriate in the context of a K-5 music room specifically because it included the terms 'lesbian', 'homosexual', 'bisexual', and 'transgender'. The district does not consider the presentation of these terms to all of its youngest students via a classroom poster an optimal way of educating them on sexual orientation and gender identity."
Even though the email stated that the poster was considered inappropriate in a K-5 capacity, the later action of CKSD administrators seemed to show otherwise.
"My understanding of the sequence of the events is that the poster was taken down in elementary because the district's statement was that they believed it was inappropriate for elementary level and was designed for use in secondary schools," CKHS teacher Avery Welkin said. "However, that statement was contradicted by the statement to Olympic High School staff, that there was a pause on requesting new Kitsap Safe Schools Network posters at OHS, which was shortly lifted again by the district."
The Cougar Chronicle attempted to reach out to the CKSD Director of Equity for an interview but was denied.
As of Nov. 11, 2021, the poster has still not been put back up.