Rising gas and rent prices: how it affects seniors
Looking past graduation, CKHS seniors are going to deal with many challenges in their first years of adulthood, such as gas, rent, and student loans.
In recent years an influx of people have been moving to Washington in hopes of finding cheaper housing prices, as costs in other states go higher. In addition, many military members and their families move to the area due to the naval base in Silverdale and the shipyard in Bremerton. 
Along with the rise in housing in the area, gas prices are also on the rise, causing more financial trouble for people living in or moving to Silverdale.
With the ease of access to the city the fast ferries have provided, people have been looking towards living out of the city for more affordable housing, with the growth in population comes a shortage in housing properties.
By 2017 there was a sharp increase where homes that used to appreciate from 3 to 5% are now increasing from 15-20% a year since COVID-19 began. 
Real estate agent Kelsey Ramirez of John L. Scott Real Estate, a local real estate company, provides her information on the situation.
"The appreciation rate has just skyrocketed. Before that we were looking at about ten percent," says Ramirez. "And so from previous years, we weren't seeing such a high jump. But I think that's all, relative to the fact that we're in an inventory crisis."
A common theme with many necessities in life, there is a limited supply with high demand.
"And so that's what's pushing the demands of pricing at the moment," Ramirez continues. "We just don't have enough housing for everyone."
Unfortunately, the military community and the military base adds towards the rising costs locals are dealing with.
Ramirez says, "…the military base helps set pricing because they look at what we call…BAH rates."
Basic Allowance for Housing or BAH rates, an allowance to pay for housing when government housing isn't provided.
"So they look at BAH rates and that helps them start determining where they should put rentals," says Ramirez. "Which unfortunately is starting to price out locals here in this area that aren't necessarily working the type of jobs that are going to meet that income level."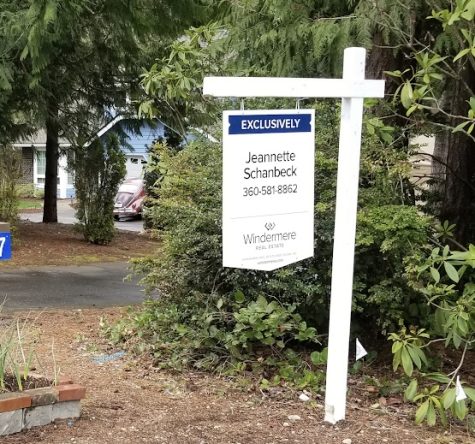 Due to the fact that 30% of all college attendees take on debt it is important that students know their options aren't limited to just college so that they can afford the cost of living.
"I think in our society, you start in elementary school and you see these pennants on the wall, they say, University of Washington, all these four year schools, right, these colleges, and that's what students are often indoctrinated with." Said Tyler Hunt, the Career Center Coordinator at Central Kitsap High School. "That's all they know, but they don't understand that. There's also Shoreline Community College, there's Olympic College and there are technical schools that help you develop skills and education towards future careers for yourself. Our society works from this mindset that if the more education you get, the more money you'll make, and that's just not true because there are many students, in fact, about 50% of all students who get a bachelor's degree are what are called gray collar workers, meaning they have a degree that's beyond the level of education and training they need to for the job they're doing."
Public and community colleges are the cheapest and should be considered so that you gain as little college debt as possible.
"Many teachers go get a master's degree because it helps them move up the pay scale and to become better teachers, but it's not required," said Hunt. "So the percentage rates often go up for average student loan debt among graduates by institution type. My student loans personally came in when I got my bachelor's just under the national average, however, that was a public school. I have a family member who's got nearly $100,000 in debt to finish with their bachelor's degree because they're in a private school."
With the minimum wage in Washington being as high as it is, people don't have to worry about the price of gas, Hunt says, if someone decides to buy a large truck that gets poor fuel efficiency, then that was their choice.
"If we extrapolate that back to when I was a kid, minimum wage was $4 an hour in a gallon of gas was $1…" Hunt said. "We're still at a similar ratio when it comes to gas prices."
The rise in gas prices have affected high school students more because they are less established and generally have less income if any to support their driving and hobbies.
"I always go to Safeway but I feel like Safeway has the best prices, other than Costco, but I don't have a membership, I feel like Safeway has the best gas prices," said Amaya Saunders, a senior at Central Kitsap High School.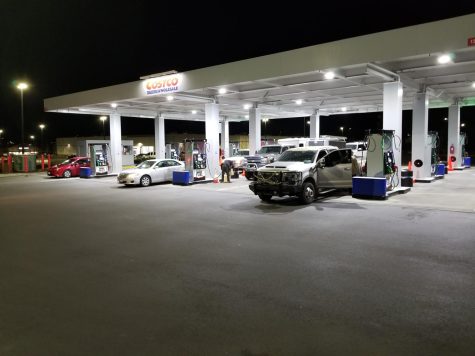 Due to the rise in college debt many students won't be able to afford to live in Silverdale after their higher education.
"I don't know what state I'll be in and hopefully it's not an expensive one like California, but student loans probably will affect where I live," said Saunders. "I won't go somewhere that's too expensive."
A senior who plans to stay locally after graduation, Chance Cone, actively looks out for the best gas prices similar to Saunders. With gas prices rising up, other costs would need to be cut.
"I can't get to Poulsbo a lot anymore," says Cone. "I have friends over in Poulsbo that I would go hang out with on the weekends. And it's like we have to make up a plan to even go to Poulsbo…"
It also becomes a challenge to look for the places with the best gas prices.
"There's like a limit on how much I can spend…" said Cone. "So I try to look for like, you know, this one's $6 This one's $5."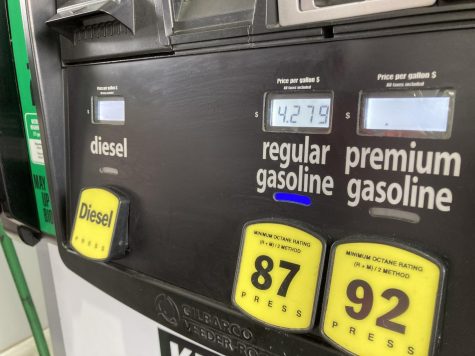 Looking towards after high school, Cone has brought to light the problems many seniors will face in transitioning towards adulthood.
"Let's say your parents want you out of the house after you graduate," says Cone. "Gas is too high, rent is through the roof…at this point, I don't even think it's embarrassing to be living with your parents when you're like 20 or 30, because rent is stupidly expensive, gas is stupidly expensive…things are just across the floor, way too expensive. So I don't know what the deal is. It's pretty, it's pretty extreme."
For seniors especially, it is a harrowing journey ahead of them. With the struggles ahead of them, it's good to know they aren't alone in the issue, but they have to wait until graduation and see where life takes them after high school.