Get to Know the Artist Emily Schuette
Insight about her past and her art.
Silverdale's own Picasso, Emily Schuette, a fellow alumni of Central Kitsap High School, was kind enough to give a little insight on her past and her creative process/thinking for making her beloved art, before embarking on her new chapter of life in New York City for college. 
Schuette was born August 13, 2002, in Silverdale Washington and has grown up here her entire life. In her free time, you can find Schuette hiking, hanging with her friends, and making art. Emily also enjoys people watching and traveling. 
"I love doing a lot of things but I would probably say traveling and exploring is my favorite thing to do, other than making art of course. I would say I really like going to New York. I can just really see myself there and I love how invigorating the environment is. It's just very stimulating and inspiring and there is just so much diversity," she said.
Schuette recently graduated from Central Kitsap High School last year (2021) and currently plans on attending FIT (Fashion Institute of Technology) for communication design. 
"I'm super excited to be able to attend FIT because it will be a fun new adventure for me to express my creativity and they provide lots of job opportunities for me to flourish as a creative with the help of practicing professionals," she said.
"I chose to major in communication design, which is basically graphic design within the fashion industry, because I feel like within my art making, I have a good eye for proportion and executing lots of different layers into cohesive pieces," she said.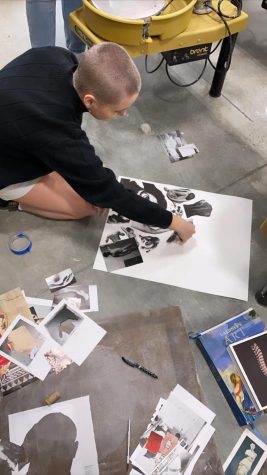 Schuette working hard on a collage.While Schuette attended CKHS, she won an art competition through the school her junior year, and her senior year, she was not only nominated but won the CKHS Art Department Award because she was a senior who consistently showed dedication to the arts throughout her high school career. She also won "best artist" in the yearbook. 
Ever since Schuette could remember, she has always expressed her art throughout her life. 
"I can't remember a time in my life when I wasn't expressing some form of creativity. I used to get in trouble for drawing on all the furniture. I used to be late to school all the time because it would take me so long to pick out a perfect outfit. Almost everything I do in my life is done through some sort of creative lens and reflects my artistry. It's just something that has been ingrained in me since I was born, It's just always been a part of who I am," she said. 
Schuette has a million reasons she enjoys doing art but her overall main reason it connects so significantly with her is because art's ability to apply to so many different things, people, and scenarios. 
"I like that art applies to so many different things. I like the ability to connect with other people through some sort of a subconscious perspective of the world. I like to deal with ideas relating to human experiences, which gives me a lot of human connection and experiences. My ability to connect with people and give them something to relate to is really what inspires me and makes me confident in my art. It makes me feel powerful in my creativity," she said.
All in all,  Schuette was an important asset to the CKHS art community and legacy overall, and hopefully now you have a greater understanding of her and her creative process/thinking too.