Head of Associated Student Body Addresses Confusion around Central Kitsap's School Dances
ASB head Daniel Sullivan talked about school dance rules and restrictions, the cancellation of tolo, and the future of school dances at Central Kitsap High School.
It is often said by students within the Central Kitsap school district that the school sponsored dances at Central Kitsap High School (CKHS) are different from those of other schools within the district. Daniel Sullivan, head of the Associated Student Body (ASB)  at CKHS, addressed these comments in a recent interview.
Covid severely limited CK's ASB in the planning of large school events like homecoming and other dances. Many students think that the restrictions here are different from the restrictions at other high schools. "There certainly is a narrative that CK dances have a different set of rules than other ones in the district. I don't know that to be true, but that certainly is the narrative," said Sullivan.
Some students say they haven't attended the recent school dances because they were not interested in the activities offered, or didn't think that dancing was allowed.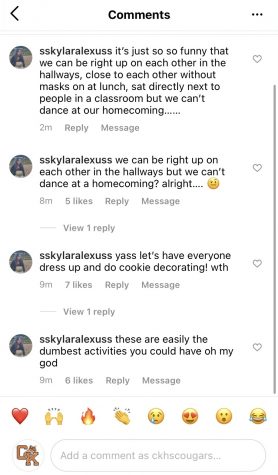 Carissa Dixon, a junior at CKHS, regularly attends school sponsored dances at Olympic High School, instead of those at her own school. "Honestly, I've never been to a CK dance," said Dixon, "It's the activities they plan. Because instead of dancing they have activities going, and most people just want to dance."
Dixon said a big reason why she had always attended Olympics dances instead of CK's was because of the way they were advertised, and what she heard from other students about CK's dances. When told that there was dancing at CK's last homecoming, Dixon said "They did? They didn't make it clear … I think if they promoted their dances better … more people would actually go … [at Olympic] they have the same rules and policies, and the same sheet you have to fill out. It's just how they promote it."
Sullivan recognized that many of these ideas may have come from a misunderstanding of the entertainment offered at CK's dances, and from the recent "Spring Fling," seemingly held in place of tolo, a school dance that CK has not held since 2019.
"[With the] Spring Fling, we were super excited to be able to do a school dance, but we only had a few weeks to plan that, which is why I think that there was maybe less buzz about that than a normal school dance," said Sullivan, "There weren't a ton of tickets, it was only 250 or so people that went. We didn't have time to get a DJ, the decorations were not as extravagant as they typically are. You know, we were just excited to do a thing."
Students who attended the Spring Fling had both positives and negative feedback on the event. According to Deanna Salcedo, a junior at CK, CK's  dances are "Not too terrible, but they could be a lot better," 
When asked what she would change about the dances, Salcedo said "maybe the song choices, and there were too many lights on." She added that she would prefer it darker, or with more fun lights, though she does appreciate the photo booths and the food choices at dances "They had a photobooth there, and that was pretty cool cause we could've went as many times as we wanted . . . and they had a lot of snacks . . . and they were individually wrapped too, so it wasn't germy." 
Salcedo said that she had heard CK's dance rules were stricter than those at other schools, but has not been to another school's dances to see whether that is true or not.
Another much talked about discrepancy between CKHS and other high schools in the district, is the absence of a tolo. Tolo, a school sponsored dance where girls typically ask the guys, has not been held at CKHS since 2019, though other schools in the district still have a tolo annually. Sullivan talked about the issues leading to the past cancellations of tolo at CKHS.
"My first year on the job was 2019. That year we had a tolo, and there were some legitimate safety concerns that night that were kind of troubling," said Sullivan, "I believe the next year's ASB kids decided it would be best to take a break from tolo that year. Given [the] recent struggles we'd had with dances and maintaining a safe environment where everyone could feel comfortable and have a good time . . . I think they decided to do CK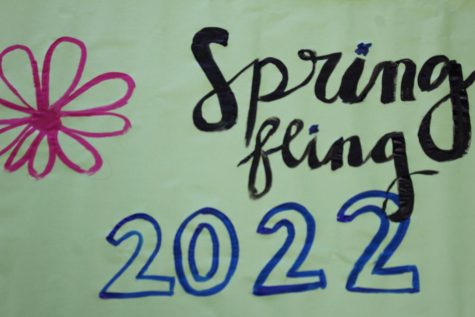 night in lieu of making whatever adjustments needed to be made that year,"
Sullivan talked about why tolo has not happened in recent years, and why Spring Fling was held instead. "We thought of actually calling the Spring Fling "tolo," they just kind of changed the name of it," said Sullivan, " But typically that's what tolo is. Kind of a lower attendance, either late winter or early spring dance."
Besides the safety issues at past tolos, Sullivan said there are also financial reasons behind the current status of tolo. "From a financial side, we typically lose money on tolo just given all the expenses in the dance and the low turnout that we typically get," said Sullivan, "so there's not a huge [financial] motivation to do it."
For students disappointed with the limitations at recent dances, Sullivan says they can hopefully expect a return to normal next school year. "I think we're planning on a full scale homecoming next year, that is unless there's another setback with this covid stuff, I think we're full steam ahead on next year's dances," said Sullivan, "It'll be up to the recently elected ASB executive board whether or not they decide to do a tolo next year. But as far as I know, that's very much on the table."