Health Education of Students in Washington State
An overview of Health Education standards in Washington State.
Washington state has many guidelines and rules that teachers have to follow in order to make sure their students get the proper education. Health Education is a topic that many people have strong opinions about, which ends in parents having the right to opt-in or out their student of some of these topics.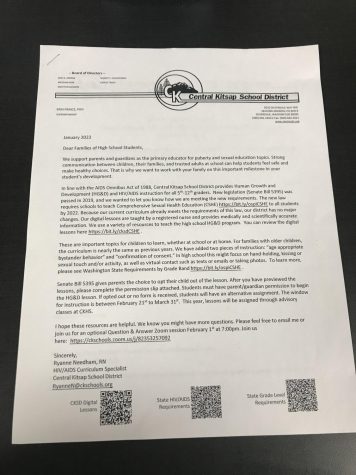 "I do believe that parents need to have the right to do what they believe is best for their students, but I think that they shouldn't be afraid of information," Katie Staker, a teacher at Central Kitsap High School, said. "Information is not going to make their child do anything. It's only going to empower them to make the best choice possible for them." 
There are many guidelines the Washington State Legislature put in place to ensure schools teach the proper material and cover the required topics. Health education starts in kindergarten and goes until graduation, with each grade level getting more in depth and gradually adding new topics.  
Starting with elementary school, in kindergarten, the health topics being covered are social emotional learning. In 4th-5th grade, the following topics have to be covered according to the Washington Office of Superintendent of Public Instruction: human development, consent, bystander intervention, healthy relationships and touch on some HIV/STI lessons.
In middle school sexual education is required at least twice in grades 6th-8th. It must include: HIV/STI prevention, consequences of sexual offenses involving a minor, human growth/ development, abstinence, condom use, use of contraceptives, consent, bystander intervention, as well as understanding influence and exploitative relationships. 
In high school, sexual education consists of everything that was required in middle school with the addition of instruction on how to access valid health care and pregnancy prevention resources. Some topics are required to cover annually, such as HIV/ STI prevention. 
In 2020, Senate Bill 5395 was passed by voters in Washington state. This bill required all public schools to provide health education to all students by the 2022- 2023 school year. It states that all teaching must be age appropriate, inclusive, and scientifically and medically accurate. 
With this being said, schools in Washington state are required to send parents permission slips for certain topics that are to be covered in class. In the beginning of the school year parents are notified if there will be any sexual education topics in health class, for them to be able to review what their children are going to be learning about.
In many states in the United States, there's high rates of disease transmissions. The top five being, Mississippi, Maryland, New York, Louisiana, and Georgia. Louisiana does not mandate sexual education courses and they are 2nd highest in the U.S. for STIs infection rate. Vermont mandates both sexual education and HIV education and the state has the lowest STD rate out of the states. It is clear that there is a connection between the two.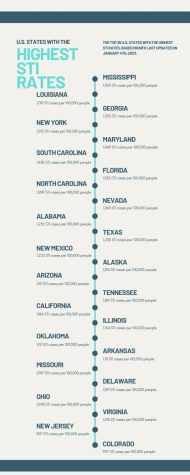 Of 50 US states, 35 mandate sexual education and HIV education, with 11 of those 35 only mandating HIV education. 
As for Central Kitsap High School, a health credit is required for graduation. 
"No, I don't think it [health class] should be [required]… I mean, it should be up to the student what their education consists of and I don't think that it should necessarily be required for a student to learn about their own health if they don't want to," a freshman that attends Central Kitsap High School who wished to remain anonymous said. 
"They don't eat," said Sarah Leshley, the Central Kitsap High School nurse. "They don't drink water. So very basic things that students should be doing to take care of themselves. They're not doing and I think that their life would improve when you talk about further aspects of health."
With some more sensitive topics, health class can be uncomfortable due to students possibly not being used to talking about these subjects in an open manner. 
"No, I would never ask a question in that class," the anonymous freshman later said. "The topic we're learning about right now, it's like STIs and that's just weird. Weird to talk about in front of a class of so many people." 
Not all students experience the same fear of going out of their comfort zone to ask for the help they need, when it comes to dangerous health issues.
"I think everybody's comfort level with health is different," Katie Perrone, health teacher for Central Kitsap said. "So there will be some who aren't [comfortable]."
Since some people aren't understanding their symptoms or changes as a serious matter, they don't go and get tested. Most didn't receive enough education on sexual health; they may not assume anything is wrong in the first place. The CDC estimates that half of the 26 million new cases of STI's are transmitted by people aged 15-24. On the other hand, less than half of adults aged 18-44 have ever been tested for an STD other than HIV/AIDS. This means that it's common in all ages to not understand what's going on with their own body.
Condom Availability Programs (CAPs)  began in the early 1990s and are one way schools can help prevent HIV, STD, and pregnancy among teens. Most programs that provide free condoms have them available in the nurse's office, school-based health centers, designated classrooms, and special vending machines. In present time not all schools provide this access to all students.
 "We don't have condoms available for students," Perrone said. "And I haven't pursued it really heavily but as I've asked about it, … there's some hesitancy, but students at Klahowya have Peninsula Health Services with their mobile unit, and so students can come out and grab free condoms and have access to that kind of health care that ours don't." 
Having a good bond with your teacher does play a role in the comfort level that students have with the material being presented.  
"Mrs. Perrone  is a good teacher. She's really nice. And you can tell she really likes what she does. So that makes class fun. Even if we do have to talk about weird stuff," the anonymous freshman said.  
"I have so much advice," Perrone said. "…my class teaches so many different subjects from mental health to body image to infectious disease to consent to sexuality. It's a huge array, but all of that kind of all can be grounded in self identity and confidence and just learning who you are and how you are and being comfortable with yourself and all the rest of help kind of comes from there. I'd say pursue that."