Open vs. Closed Campus Lunches: What CKHS Students Think
Open and closed campus lunch policies, determining whether or not students can leave campus during lunch, have sparked wide debate with varying sides. Students at Central Kitsap High School share their thoughts on both.
Throughout the many generations of students, one aspect of school life has endured: the cafeteria. During lunch periods, students are given the opportunity to take a break from academics and enjoy a meal with their peers.
When it comes to the lunch menu, all public schools are mandated to meet certain federal and state requirements. The U.S. Department of Agriculture (USDA) sets the school meal nutrition standards; food items are only allowed to have a limited amount of sugar and sodium, and must fit meal category standards, such as milk, fruits/vegetables, and grains.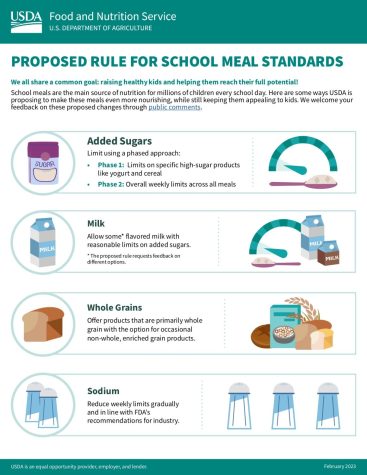 Other facets of school lunch are regulated by the school district itself, such as lunch policies dictating whether or not students are able to leave campus to eat lunch. 
For a school with an open campus lunch policy, students are allowed to leave the building during lunch and eat wherever they would like. Students are given more freedom to make choices regarding where they want to eat, what they want to eat, and how they want to spend their time. 
Schools with a closed campus during lunch operate the opposite manner. All students are required to stay in the building during lunch and are not allowed to leave for any reason, or have food delivered at the school's entrance.
Vastly different from each other, both of these policies carry their own pros and cons.
An open campus policy can benefit students who would like more control and variety over what they eat. Developing brains, especially when placed in a fast-paced learning environment, require diverse and nourishing food options that school lunch menus can't always meet. Each student has varying dietary likes and needs, and placing the choice in the hands of the students can assure that everybody returns from lunch fulfilled, happy, and ready to learn. 
"Maybe I'd stop by – I know Jersey Mike's is right down the road – I'd probably get a sandwich from there, come back and socialize, do homework…" said senior Aavry Andrews.  
Through open campus lunches, students are granted more independence and responsibility over their schedules, and an open campus can encourage students to develop life skills like how to manage time, money, and make healthy dietary decisions on their own.  
Calvin Lumadue, senior at Central Kitsap High School, believes that implementing an open campus lunch policy could strengthen the bond between staff and students by showing that staff trust students to do the right thing. 
"I think it would be a little bit more beneficial because a lot of the students don't really trust a lot of the staff in here, and [an open campus lunch] would give a better relationship with the students and the staff," said Lumadue.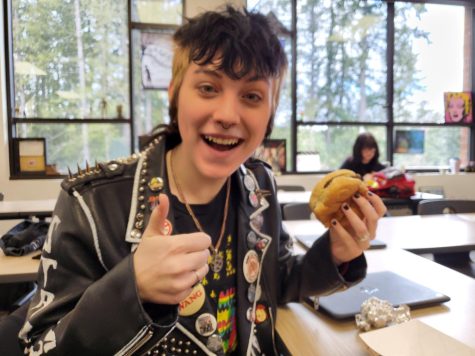 Lunch at Central Kitsap High School, which is divided into three consecutive periods, is closed campus. With approximately 1,425 students attending the school, lunches tend to get overcrowded. 
An open campus lunch policy could fix the overcrowding in the cafeteria; with many students likely to choose to leave campus during lunch, it's probable that the availability of open seats in the commons would increase.
However, this solution to CKHS' problem with overcrowding might create a new one. The campus has also had a history of issues with traffic – specifically during the morning before school begins and afternoon when school lets out. If CKHS were to adopt an open campus lunch policy, it's likely that students who drive would experience the same issue. 
Especially when considering difficulties surrounding the high school's roundabout, a large congregation of students driving off campus at the same time would inevitably cause traffic jams, and could even potentially lead to vehicle-related injuries due to rushed or irresponsible driving.
While an open campus policy is likely to create traffic jams, another problem arises: by delaying students when entering and leaving the campus, the traffic could cause students to be late. Each lunch period is only a thirty minute window of time, and if students are stuck in traffic for even just ten minutes that means a third of their time is already taken.
This doesn't even take into account the students who don't have vehicular transportation in the first place.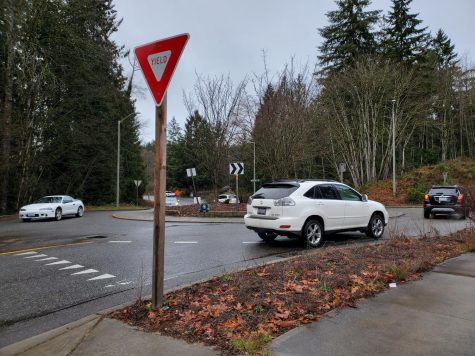 "I can kind of understand the policy," said sophomore Lael Roth. "Leaving campus on your own, I can kind of understand [closed lunches] because not everyone has the transportation for that, and it can take a long time if you're going to walk and you want to be on time for next period. So, it's kind of like a 50/50."
A closed campus policy prevents any traffic from being caused during lunch, consequentially counteracting the high margin of tardiness that could come with an open campus.
Attendance aside, one of the biggest advantages a closed campus lunch policy holds over its opponent is the assurance of student safety through staff supervision in the cafeteria. 
When students step outside of campus, administrators aren't able to observe or control their actions and behavior. If CKHS' administration were to allow students to eat off campus, it would come with a degree of liability and risk regarding their general safety and well-being. 
"I mean, I get why it's closed campus, because they don't want anybody [unauthorized] to come in, but it also kind of sucks," said Lumadue. "Instead of being able to order food or things that you actually want, you're stuck with really crappy school food."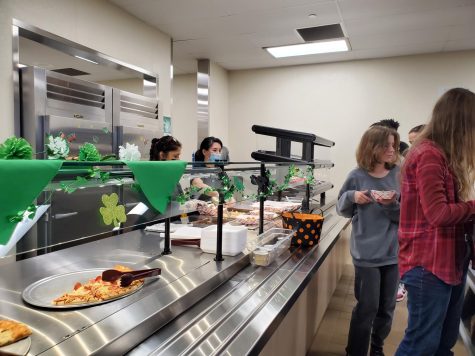 On the other hand, due to the aforementioned limitations of the school lunch menu, a closed campus lunch policy provides very little choice when it comes to what to eat during lunch. Many students who buy lunch at school dislike the food that's served and/or don't have the option to pack their own lunch. For some students, what's served during lunch may be their only opportunity to eat.
"I thought it could have had a lot more fruits and vegetables honestly," Roth explains. "I thought the main courses were okay, but I feel like they could have more variety."
In the past, there have been incidents where some students have ordered food to be delivered and picked up at the school's front entrance during lunch.
This practice led to the school itself issuing an announcement, forbidding students from getting food delivered. Some students disagreed with this decision.
"I feel with food deliveries, the school policy could be a little more open about that because some people don't want the school lunch," Roth said.
Considering certain inadequacies that come with the current lunch situation, and the concerns that may prevent CKHS from switching to an open campus lunch, it's difficult to discern what would be best. 
"30 minutes… That's not a whole lot of time to eat and socialize if you need to," said Andrews. "Or, sometimes, people do homework or work and stuff like that. I feel like if we got rid of advisory that could shorten the day or lengthen lunch, which could be beneficial."
Decisions regarding the state of CKHS' lunch don't necessarily have to be so polarized, and many students are continuing to come up with new ideas for how staff, students, and administration can improve it.