"We All Bleed," Let's Talk About Pads, Tampons, and Menstruation
Washington State law passed to require schools to provide free period products in the bathrooms. Local organization, Global Periods and students weigh in on how that law should not be the end of the fight for people who menstruate.
On average a person with a uterus will start menstruating at around age 12.5. This is about the seventh grade for most students in American public school systems. Meaning that at that age is when they would start to need access to period products.
In Washington State law RCW 28A.210.420 was passed which requires all school districts and private schools to provide period products free of charge in all gender neutral and female designated bathrooms. In Central Kitsap School District, Klahowya Secondary School was the first school to install free period product dispensers. 
 "We were notified a couple of weeks before then [spring break 2023] that it was new state law, and I was not aware of it in our department," said Kari Clithero, the Assistant Director of Operations for the Central Kitsap School District. "So as soon as we found out about it, we purchased them and installed them as quickly as we could." 
However many students and organizations do not believe that this one law is enough to fight for people who have periods. Global Periods is an organization that was co-founded by freshmen Nascha Martinez and Lily Calvert in 2022. This organization is youth-led and aims to educate people on menstruation and end the stigma surrounding periods.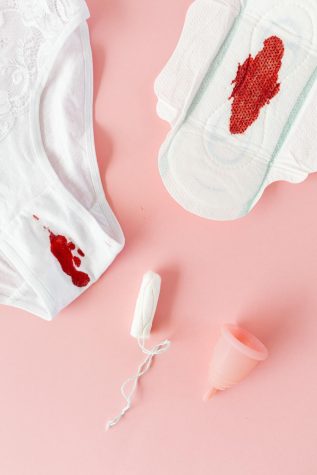 "Our organization stands for and believes in de-stigmatizing periods within education and also just general conversation," said Co-leader Tasha Beukema. "And so basically, what we strive for, especially in our school, is to create that environment for kids incoming and already in health classes, to be able to have those conversations around periods and not have so much stigma." 
Global Periods has been able to teach classes about menstruation and how period products work. Not only in Washington State but also in Colorado and California. 
"A few months ago, we gave a presentation to our ninth grade health class at West Sound and we taught them about how periods work," said Martinez. "We taught them a lot about period accessibility, because it's not a topic that's often touched on in schools. And so we talk about period accessibility in the U.S. and around the world, including what kind of products are used, what kind of products are available, the period tax, all those kinds of things. And then we also educate them on other resources that they have available to them that they might not have known about." 
Global Periods believes that the education surrounding menstruation, and health in general, is lacking and needs to go into more depth to teach students about their bodies and what happened to them. That this lack of detailed education leads to stigma surrounding periods. 
"In Washington specifically, there is standardized health education," said Martinez. "But a lot of it does not go into not only the period product accessibility aspect of things. Because at least for me, I've done a few different states and none of them have ever talked about, like what to do if you can't afford period products, how can you get them in restrooms where they aren't available? And I think that's an aspect that we're trying to bring to education more." 
The way that health classes actually do teach about periods are also furthering the issue they say. By limiting who gets the education and who does not. 
"But it [health classes] also often was gender segregated… You'd have the guys in one room and the girls in another room and I think the problem with that is, a lot of stigma comes from ignorance," said Martinez. "So a lot of stigma is not necessarily mal-intentioned. But when you have a big group of the population that doesn't understand how it works. That's when problems come in and that's when laws get passed." 
Senior at Central Kitsap High School Robyn Fancher also feels that there is not enough being done for people with periods and that there is a stigma surrounding menstruation. Fancher is currently conducting a project for her Civics class encouraging Washington congress to do more. 
"Me and a partner in this class decided we would try to explore working on getting a bill amended in Washington state that says, free period products should be in all schools, female and gender neutral bathrooms, and we're currently working on getting it to be also in the men's restroom," said Fancher. 
Fancher and her partner have conducted a form for people who menstruate to fill out to have a place to talk about how they feel about period product accessibility or the lack thereof.  
"I want to show that there is a need for people in Washington and that it's a want for people in Washington," said Fancher. "And despite some problems that that may come with, like vandalization or stealing from walls or stuff like that, which is always a risk and like any bathroom I feel like but also having to go against people who rather not have them in the restrooms."
As of 2022 Scotland became the first country to make period products free for everyone. Whereas the United States prices for period products have increased by 10% in the last year.
"I think about the price right now of different products," said Martinez. "You know, like talking about the pink tax, and things like that where the prices are just astronomically high for different products. Within you know, homeless populations within underfunded communities, that tends to be at a higher rate. And so part of the worry is that people aren't going to use safe products, right?…  Because you just don't have access to something else."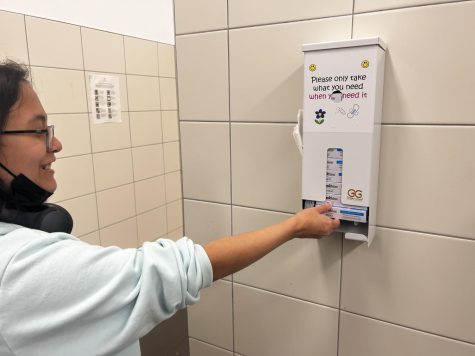 On average a person with a uterus can spend around $5,544 on pads and tampons in one lifetime. Not including additional charges for other needs such as period underwear, "Panty Liners", birth control, etc.
"A lot of people struggle to pay for period products because they are expensive…You have to pay to get these products so that you don't bleed all over your clothes," said Fancher. "And some people may not be comfortable with things like menstrual cups. "
As of 2023, 12 out of 50 states have laws that require there to be free period products in public school bathrooms, Washington state being one of the latest. 
"When I was going to school we didn't have that and because of that stigma of it, especially if you didn't have the income to afford those products," said Clithero. "I think it's important for us to be able to provide those just to make them accessible as possible. I think it's long overdue for our society as a whole." 
Student action and organizations such as Global Periods fight to provide equal access to products and in depth education. So new laws can be passed and there can be de-stigmatization around menstruation. 
"Because all different kinds of people bleed, we all bleed," said Fancher. 
*Robyn Fancher is a reporter for the Cougar Chronicle.