Paid Internship Aviation Opportunities at CKHS
CKSD in partnership with the Alaska Air group has been able to provide 5 highly prized paid internships positions over the summer to a few lucky prepared individuals.

The Central Kitsap School District currently has a tandem partnership with the Alaska/Horizon air group that allowed for a bunch of prepared individuals to apply for a paid internship in hopes of receiving a position. This particular internship was open to applicants that have filled out a particular set of requirements.
The requirements for the internship are first having your parents or guardians permission and a secure route of travel to and from the SEA airport. You must be authorized to work in the U.S. and be the minimum age of 16 by June 1, the program is 90 hours spanning over three weeks. You cannot have graduated beforehand, you have to be a high school student in the 2023/24 school year and you must have taken previously or be enrolled in one of the offered aviation courses at CKHS, (MS ACE, HS Ground School, HS Drones).
After checking to see if you filled out all the requirements there was an online form to submit that asked for thorough details regarding your character and ambitions for your possible future in aviation.
Individuals with approved applications received an email verifying and provided possible dates for an interview with an official from the Alaska/Horizon air group. This live interview was the last step, a meeting to ensure good personality and responses to behavioral and communication questions.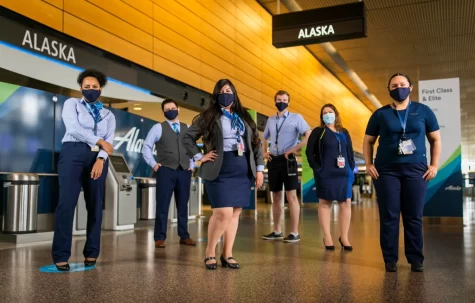 Those who passed the interview received emails verifying, along with instructions to open an official account on the Alaska Airlines website where you would receive further information and instructions regarding your internship over the summer.
The application and interview process are currently over for this year and all positions are filled. In the internship there are two different path types to choose from to work within, Maintenance and Engineering or Flight Operations. Connor Burns, Megan Carter and others will be interning in Maintenance and Engineering while Abigail Potter and others will be interning with Flight Operations.
This internship isn't the only one that Alaska Airlines has available, they routinely hire interns to assist in areas outside of just the offered flight operations and maintenance positions. While the CKSD application time period has come to an end they might still be hiring for other positions, if interested you could check here. 
Alaska Airlines has glowing reviews from many of their former interns.
"I've really enjoyed the people I've worked with and that's a huge part of coming to work for me," said Lauren H. Technology Training Intern, Summer '19. "What brings me to work is the people and feeling supported. Overall, it's just been a great experience learning. There's so much that goes into one flight that takes off, and you don't really realize that until you're here. That's been the coolest thing; every day I learn something new."
It's not just the former interns that are wearing positive attitudes towards the experience. 
"I'm looking forward to doing this over the summer, working with planes and engineering in a paid position." said Conner Burns, CKHS sophomore. "I'm really lucky and glad that I got accepted for this, I'm looking forward to it."