Central Kitsap Highschool's Distinguished Scholars of 2023 Are Recognized
Central Kitsap's Distinguished Scholars program is an extracurricular which seeks to help highly capable students to achieve more rigorous courses of study and be recognized for their academic success.
Starting in the late 1980's, it was originally led by a former counselor in the Central Kitsap administration, with Craig Johnson and Alex Chertok having been helping to continue the Distinguished scholar program at Central Kitsap High School.
The purpose of the program is to provide motivated students the opportunities to further progress their academic pursuits, giving them a satisfying, and challenging course of study to prepare them for their lives past high school and into college or other forms post High school education.
As for how the program helps its members "we have students that might have aspirations that might take them towards say an officer position in the military with an ROTC scholarship, being a distinguished scholar is a huge selling point in that competitive application process," said Michelle Sotelo.
This program materializes one's academic skills and gives them something to show for such, which can help students in much more competitive environments.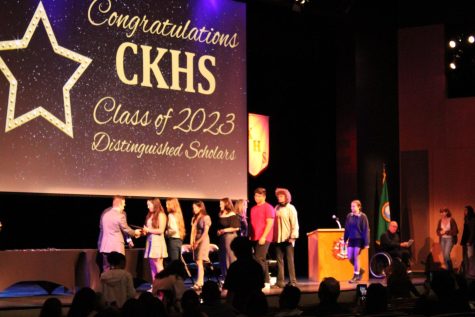 "There are only 3 meetings held throughout the year," said Sotelo. "Next school year it will be the fall meeting during advisory, in October, the December meeting will be in the performing arts center, and the spring meeting will also be in the performing arts center as well."
With this year's final meeting having been on May 23 in the performing arts center, where they honored 50 of the graduating seniors who meet the requirements of the Distinguished Scholar program.
This year's spring meeting, CKHS had the past Alumni of class 2002 Lauren Sato, now CEO at the Ada Developers academy. Present their Personal message to the newly recognized distinguished scholars.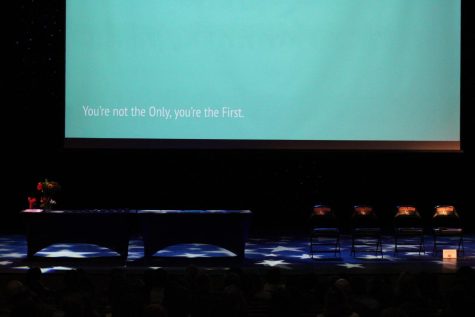 Students that do wish to acquire the title of distinguished scholar also need to have attended the two previous meetings in the fall and winter leading up to the year's final spring meeting.
Also maintaining a 3.4 cumulative GPA or higher, having no more than four C's and no grade lower than a "C," and 18 semester hours worth of honors/advanced/AP class work. Make sure to check the course catalog for more information CKHS Course Catalog 2023-24.docx – Google Docs.
"I feel like if it's something you are interested in, you should definitely try and go for it," said Ainsly Monroe, one of the 50 seniors that will be graduating this year and qualified to be recognized as a Central Kitsap Distinguished Scholar.
Also noting that "if the program is something that you're trying to aim for graduation, it's definitely something that you should choose wisely, take more time and be more conscious with your class selections."
Though it isn't something that can be used during the senior year in the application process, "it could be something to add to an essay, maybe something saying you're striving for this award to help motivate you academically," said Monroe.