The Power Outages Effects During the Early Snow Days
How students handled the power outages on Nov. 29 and 30.
On Tuesday and Wednesday, Nov. 29, and Nov. 30, the power went out for multiple houses while others fortunately didn't. 
The power outages started as early as 8:00 p.m. and power returned as late as 10:40 a.m. the next day. These times differed between students, some people's power cutting out at 10:00 p.m. and getting it back only a few hours later. 
"I'm pretty sure it was 13 hours, because 9:00 p.m. to 10:00 a.m," said Naeleya Caples, a Freshman at Central Kitsap High School. 
She was one of the people who lost power for the entire night, mostly sleeping through the night. 
"We went into our car and charged all our electronics, but it went out when I was sleeping, so most of the day it was super cold," said Caples, mentioning the copious amounts of blankets she used to keep warm during the cold night. 
The cold was definitely prominent during the days leading up to the closed snow days, the weather falling to 33 degrees at the most, and staying around 35 degrees as the time passed, eventually getting slightly warmer the next morning.
"We used a whole butt ton of candles, and flashlights from our phones, but our phones died," said Caples, once again adding that in the future, she'd be sure to have multiple blankets and candles at the ready.
Different people will use different types of light, some families using the classic lanterns while others having more creative ways. Caples was one of the many students who also used flashlights, one of the most common and resourceful sources of light, even if it's coming from your phone.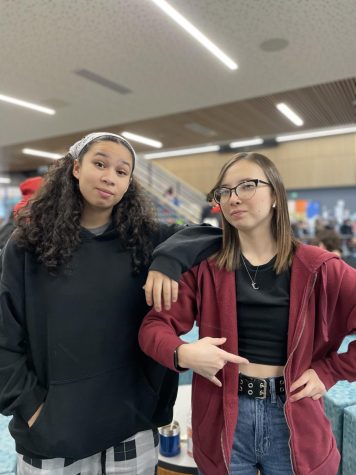 "We had a bunch of lantern light things, and we have a bearded dragon," said Dannica Simmons, Freshman at Central Kitsap High School whose power was out from 8:00 p.m. to 10:00 a.m. Leaving her without power for 14 hours.
Her bearded dragon was okay during the night, thanks to a late night run that her dad went on. 
"Since the power was out, he couldn't get warm. So at five in the morning, my dad had to run out and get him a heater that uses propane," said Simmons. 
She used flashlights, battery operated as well as from a phone, while also making use of her bearded dragon's UV light, and saying how next time she'd be sure to make use of the school chromebooks as she only recently remembered that students can charge their devices on their chromebooks.
"If you use your phone up too much, and you have a charged chromebook, you can charge it on your chromebook," said Simmons.
There are only so many ways your phone can be used during a power outage, Simmons passing the time with a book before heading to bed.
"Get CONNECT 4, because CONNECT 4 is a good time passer," said Anna Reddington, a Sophomore at Central Kitsap High School who had the shortest time without power, only staying in the dark for an hour.
She also used common light sources such as her phone flashlight and a camping lantern. She was one of the lucky few who was able to sleep through the night with power, as well as having a multitude of power outage experiences due to her past residency in Tennessee.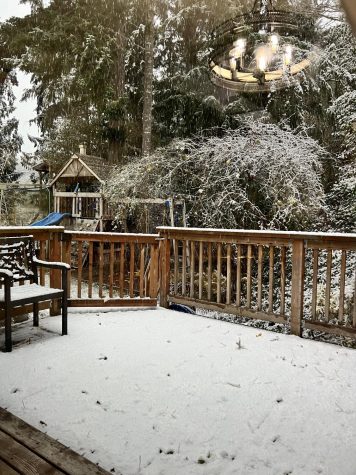 It's clear that the power outages affected a multitude of people and students, with some being fortunate enough to not have any loss of power during the two days. There's no telling when the next power outage will be, but at least everyone will be able to be a little more prepared thanks to this recent learning experience.