Shifting the Spotlight
After a successful fall performance, the drama department looks forward to many more directed by the new theater teacher.
Hang on for a minute...we're trying to find some more stories you might like.
Nov. 20, 2018
Central Kitsap High School theater showcased its last fall play in the Southworth auditorium, "The Importance of Being Earnest," on Nov. 8, 9, and 10. This witty satire makes subtle critique of high society and explores the nature of personal identity. Directed by Zachariah Timm, the school's new drama teacher from Montana, the performance displayed a realistic yet simple set and blocking placed emphasis instead on the lines themselves.
"The Importance of Being Earnest" follows friends Jack Worthing (Everett Thompson) and Algernon Moncrieff (Andre Alvarado) who each, at some point in the play, claim that their names are Earnest. This leads them both to live a double life, and causes some confusion when two young ladies claim that they are engaged to a man named Earnest.
Junior Abby Power played the role of Gwendolyn, the woman whom Jack Worthing proposes to under the name of Earnest. She enjoyed the part, saying "I have never portrayed a character like Gwendolyn before so it was a bit of a challenge, but I'm happy with how it all turned out!" Power has many experiences to compare with, as this is the seventh theater production she's acted in.
Power's favorite memory from this show was the process of preparing for the performance during tech week. "It was so fun to see the immense progress we made as a cast that final week," she said. It was also really nice when we got our costumes because everyone started to become their true character."
Timm agrees that the work actors put into the show weeks before the performance is what made it come alive. "Leading up to the show it felt like we sorta just flipped a switch, one day it was a work in progress and the next day we were ready," he said, "it defied any reasonable expectations."
The cast ended the show with an overall sense of pride and confidence in their performance. For Alvarado, it was the first play he's been involved in, but he felt his theater debut went well. "I think I was able to express my character well," he said. When asked if he planned on acting in more plays this year, he noted that while his commitment to Sailing team might conflict with the spring show, he hopes to perform on stage again this winter.
In the spring, CKHS does a series of short skits directed by students and showcases them as "Spring fest." Often, the works performed are also written by students. Thompson said he plans on directing a play in the spring for a second year.
The theater department has several plans for the rest of the year following the fall production. "In between now and the next show, we're trying to do more as a thespian society," says Timm. For example, he hopes that the group will be able to watch an adaptation of a play to film after Thanksgiving break. He's also interested in bringing the drama department into the community more, and performing outside of the school theater. Auditions will be held for the next play in January, and Timm anticipates that drama club will be more active later in the year.
Timm's main goal for the drama department is "setting the tone for a sustainable culture that's positive and inclusive." He hopes to build the program and reach out to more students. "Drama can really appeal to anyone whether you're a performer, or a technician," he said, "there's really a place for everybody." Timm also notes that while he's been careful to honor previous theater traditions, he's trying to start some of his own.
Power also expressed a sense of inclusiveness within the drama department. "The theater is a very open and accepting community," she affirms. When asked what she'd tell someone auditioning for their first show, Power said to "never be afraid to do something bold and different than anyone else! It helps the director remember you during casting and it shows versatility!"
Alvarado and Thompson both emphasized the importance of focused characterization. According to Thompson, "the times when you best act is when you forget about everything else, the specifics of your lines and the audience and the blocking…and it just becomes part of your character. You do it on instinct." Alvarado added that when onstage, apologies are not necessary–just courage.
The drama department encourages students to try auditioning for one of the upcoming plays or support the program as an audience member. "Theater is an experience that is fantastic for self discovery, and if you're trying to find a place where you fit in and belong, a lot of people can find that on the stage," says Timm. "It's worth it to at least give it a shot."

About the Contributor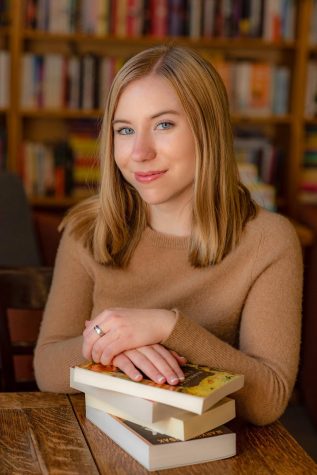 Aina Zabinski, Editor
Aina Zabinski is the Editor in Chief of the Cougar Chronicle. This year is her first year running Cougar Chronicle and the first semester has gone very...