Festivals of Light
A look into the diversity of holidays celebrated by students and staff at CK.
Hang on for a minute...we're trying to find some more stories you might like.
Dec. 11, 2018
The holiday season is often associated with festive decorations, cheerfulness, family get-togethers, bustling shopping centers, romantic walks through the snow (or rain for Washingtonians) and a sense of goodwill. Something that is rarely thought of during this season, however, is the diversity of cultural holidays that people celebrate within the same community. While for some it may be "beginning to look a lot like Christmas," about 10 percent of staff and students at CKHS celebrate a different holiday according to a poll of 195 Cougs. This includes but is not limited to: Hanukkah, Kwanzaa, Diwali, Chinese New Year, Fiesta of Our Lady of Guadalupe, St. Lucia Day, Winter Solstice and Twelfth Night.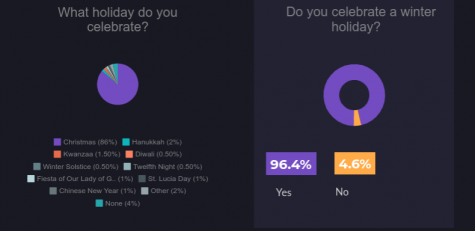 Hanukkah is a Jewish holiday lasting eight days, observed on Dec. 2-10 this year. It is a celebration of family, freedom, and light; on this holiday the Jewish people remember the rededication of the Temple in Jerusalem, and the legend of how only a small amount of oil miraculously kept the menorah lit for eight days. On each day of the holiday, blessings are recited while lighting the nine-branched menorah (or hanukkiyah) at sundown. This is traditionally followed by singing of "Maoz Tzur" and other songs.
Spinning the dreidel (a spinning top) is a customary activity, adapted from an old German gambling game. The four sides of the spinning top are marked with the Hebrew letters nun (take nothing), gimel (take all), hei (take half) and shin (add one). The letters are said to stand for the Jewish statement "Neis gadol hayah sham," which means "a great miracle happened there."  (More information regarding this can be found at https://reformjudaism.org/hanukkah-customs-and-rituals)
Traditional foods eaten during Hanukkah are latkes (potato pancakes) and sufganiyot (jelly doughnuts), both baked in oil as another reminder of the story. Other popular foods are bimuelos (fried dough puffs) and keftas de prases (fried leek patties).
Diwali is an East Indian holiday, and occurs early in the winter. As junior Aaeena Joshi explained, "Diwali happens in November but it's very valued in India so we celebrate it as a big event…It's the celebration of light, it's something that unifies people. In Indian culture, light is the alleyway out of darkness, as my mom likes to say. So if you're in a dark place there's light waiting for you." Joshi says that while her family celebrates the religious aspect of Diwali (it is a major celebration for Hinduism) she appreciates it for cultural reasons instead.
The name Diwali comes from the Sanskrit term dipavali, meaning row of lights. As this suggests, many small lights and diyas (oil lamps) are lit around the house to invite the goddess of wealth, Lakshmi, to visit. Exchanging gifts and setting off firecrackers are also key elements of the holiday in India. Joshi added that her family makes symbolic designs on their hands with henna during Diwali, and also enjoys other traditional activities. "On one hand we put a moon to represent darkness, and a big sun on our other hand," she explained, "and we make a lot of food. There's this special flat bread called poora and burfi [a dense milk-based sweet]. We dance to a lot of traditional music, and there's some Indian folk dances. My family doesn't exchange gifts, but there's so many people invited we often give children money ($21 or $102 usually, it's in very odd amounts)."
When asked whether she talks about this holiday with her friends who aren't Indian, Joshi expressed that she doesn't feel very comfortable sharing with most people. "Culturally I think there's a slight barrier," she said. "As someone who came here from India, I notice a lot of celebrations in America involve more religious than cultural values, and I can't really relate to that. I don't think a lot of people know about Diwali and I don't really talk about it."
Kwanzaa is a cultural holiday celebrating African-American heritage. It is celebrated from Dec. 26- Jan. 1, with a focus on family, community and cultural roots. The holiday was established during the Black Freedom Movement of the 1960s by a professor of African studies, and is grounded in the first harvest celebrations of Africa. Kwanzaa means "first fruits" in Swahili, the most widely spoken African language, and pays tribute to its origins. CKHS junior Lyric Dubose-Jackson explained that Kwanzaa lasts eight days and includes lighting a kinara (a West African style candle holder). He described a tradition of lighting the candles and feasting together in customary African dress: "We get the candles out and we all put on our dashikis, then we cross our legs and sit in a circle. Then we bring a lot of food, especially fruit." Afterwards they perform tribal dances as well.
Cuisine is a central part of the holiday, and Dubose-Jackson specifically mentioned jollof [a special rice dish] and fufu [a starchy, dough-like food often eaten with sauces or stew]. "It's a chance to celebrate African culture," he said, "but in my house we celebrate it everyday."  
Chinese New Year, the longest Chinese holiday, officially begins on Feb. 5 this year and the festivities last until Feb. 19, culminating in the Lantern Festival. The exact dates for this holiday change year to year, because it is based on China's lunar calendar. According to the Chinese zodiac, 2019 will be the Year of the Pig, twelfth in the cycle of zodiac animals. The positive traits of the zodiac animals are believed to be bestowed on people born during their year.
According to Chinese legend, the monster Nian came about every New Years Eve, forcing the people to hide in their homes until a young boy fought the monster off with firecrackers. Therefore, setting off fireworks is an important part of the holiday, as is decking everything out in red. Red lanterns are hung up, and red clothing becomes very popular during that time of year, as the color is seen as good luck. On Chinese New Year, children traditionally receive lucky money in red envelopes, a symbol of transferring fortune from elders to the younger generation.
Dumplings are supposed to be eaten for each meal throughout the holiday, and traditional desserts are enjoyed as well. These include: tangyuan ("soup balls"), nian gao (rice cake), and fa gao (somewhere in between a sponge cake and a muffin). Special wine is reserved for Chinese New Year, and toasts are observed with strict etiquette.
The Chinese New Year greeting is "xin nian kuai le," but in Hong Kong it is more common to say "gong hei fat choy" when wishing someone a happy new year. More information about Chinese New Year traditions can be found at https://chinesenewyear.net/21-things-you-didnt-know-about-chinese-new-year/.  
Fiesta of Our Lady of Guadalupe is a Mexican holiday celebrated on Dec. 12, recognizing the legend of how the Virgin Mary appeared to Saint Juan Diego asking him to build a church at Tepeyac. Many pilgrims travel to the site of the church there as a sign of devotion to Mexico's patron saint. Some traditional feast foods are Sopa de Espinaca con Codito (Spanish soup with macaroni), Tacos, Mole poblano (chicken in spicy sauce), cajeta (boiled milk and sugar), and cafe con leche (coffee with milk) among others. For more information about this holiday, refer to https://www.catholicculture.org/culture/liturgicalyear/activities/view.cfm?id=968 .
St. Lucia Day is a Scandinavian holiday, and aspects of it are also incorporated into Julefest. It is celebrated on Dec. 13 in Norway, Sweden, and the Swedish speaking areas of Finland. St. Lucia was a young Christian martyr, who upon refusing to marry a nobleman and giving her dowry away to the poor, was sentenced to burn at the stake and stabbed in the heart by her fiance. St. Lucia Day marks the beginning of Christmas time for Scandinavians, and symbolizes hope and light during the darkest time of the year. On the morning of St. Lucia Day, the eldest daughter of the family dresses in a white robe (symbolizes the saint's purity) with a red sash (symbolizing her blood), and wears a wreath of burning candles on her head as she greets her family members with biscuits and coffee. http://realscandinavia.com/st-lucia-day-in-sweden/
Julefest is usually celebrated on Dec. 21, and also involves the Santa Lucia procession, along with traditional dances around a Christmas tree and a visit from the Julenisse. The Julenisse is essentially the Norsk version of Santa Claus, a little man in a red cap who lives in the forest and protects the farmstead. A bowl of porridge is often left out for the Julenisse on Christmas Eve in order to bring luck to the household, and the Julenisse brings small gifts for the children.
Winter Solstice occurs on Dec. 21, marking the longest and darkest night of the year. It is a Pagan holiday, and was known as Yule in old European culture. Many customs and symbols of Winter Solstice are now embedded in modern Christmas tradition, some of which are: decorations of red, green and white (Druidic colors), placing an evergreen tree in the home, and hanging mistletoe above doorways.
Twelfth Night is celebrated by Christians on Jan. 5, twelve days after Christmas and the eve of Epiphany. In the 1950s, this holiday was a night for wassailing, or carolling door-to-door with a bowl of mulled cider. While traditions vary slightly depending on culture, the staple for Twelfth Night is a cake with a penny, bean or charm baked into it. Whoever receives the slice of cake that has the small token hidden inside is King or Queen for the night, and receives good luck for the new year.
Christmas is the most popularly celebrated holiday at CKHS, and while it is a Christian holiday it has become a part of American culture due to its commercialization. From a religious perspective, Christmas celebrates the miracle birth of Jesus from the Virgin Mary as well as the nativity story, honoring the holy family. The holiday has been increasingly marketed more as an important phenomenon of modern Western culture; hanging up stockings for Santa Claus to fill, exchanging gifts with loved ones, decorating Christmas trees and singing along to Christmas carols have become customary aspects of the winter holiday season for many families. However, the holiday is not entirely homogeneous considering each family adds their own traditions that make Christmas more meaningful to them.
"I hope people find some value in the cultures around them, and celebrate every day rather than just a specific day," says Aaeena Joshi. "I think there's a lack of cultural connection in today's world, especially when it comes to holidays." But with more understanding of different cultures, that could change.

About the Contributor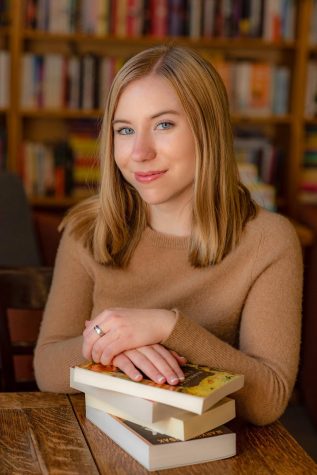 Aina Zabinski, Editor
Aina Zabinski is the Editor in Chief of the Cougar Chronicle. This year is her first year running Cougar Chronicle and the first semester has gone very...