Mrs. Mohs–The Secret Weapon to Students' Futures
Stacy Mohs, Counseling Technician at CKHS, is an unmatched resource for seniors navigating college applications, transcript submissions and scholarships.
As the bell rings, a multi-colored mess of students shuffle through the hall, teeming with hundreds of dreams and a palpable sense of teenage adrenaline. A few students glance in the square windows of the Counseling office, oblivious to the wealth of opportunity that awaits them, thanks to the noteworthy work of Stacy Mohs, Counseling Technician at Central Kitsap High School.
While most students remain unfamiliar with Mohs until their final year of high school, she is a priceless resource for seniors planning their lives beyond high school. Mohs primary role is reaching out to students with information about opportunities for various scholarships and programs such as ROTC. She is also happy to help seniors with their college applications and processing transcripts. CollegeBound students receive her particular attention, as she ensures they stay on track to receive their scholarships.
She also organizes scholarship events for seniors. Senior Awards Night is a significant end-of-year event particularly dependent on Mohs, particularly in terms of communicating with scholarship donors.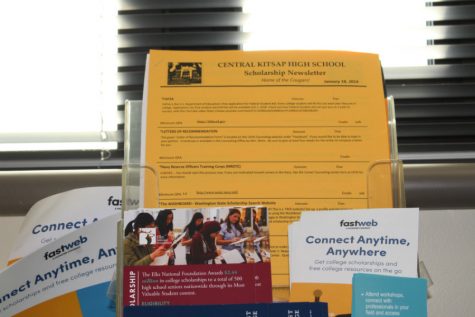 Like many others, the career Mohs imagined for herself as a child is strikingly different from her current work, but she is content with the choices that she has made. The first career she remembers wanting to do was working as a flight attendant. "I've always had a passion to travel," she said, " but having a family was more important to me. Once I was married I realized that I would like to be at home. Being a mom I think has been one of the most rewarding things in my life, and continuing working with students fell naturally into my role. It's nice to still be involved in that. My dreams of travelling are still there, but they'll happen once I retire."
After three years of working as the Counseling Technician at CKHS, Mohs described her job as one of the most fulfilling positions she's held. "I love working with seniors and helping them fulfill their dreams, they're so excited about their futures. I love seeing you guys excell and helping you through your senior year," she said.
The students appreciate her just as much as, if not more than, she appreciates them. Senior Alyssa Erickson recalled, "whenever I struggled with college deadlines to just simple questions she was always there with support, grace and answers." Since meeting Mohs earlier this year, Erickson was impressed with her willingness to "go the extra length for any student."
Michelle Sotelo, a coworker of Mohs in the Counseling Office, described her as "detail-oriented, incredible compassionate, resourceful and helpful." Sotelo especially values the thoroughness with which she completes her work, citing how Mohs has organized an upcoming application workshop regarding Washington State Opportunities Scholarship for seniors seeking a STEM career (a special event including donuts, no less). Mohs takes the outreach aspect of her job seriously, organizing events such as this to ensure that eligible students are aware of the opportunities available to them.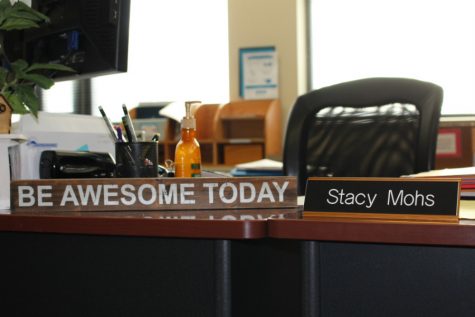 According to Sotelo, Mohs also works closely with students' counselors to gather information about their goals for the future. "She's worked with the counselors and gotten the data from us about what we've learned about student's career pathways to do her own outreach about scholarships available for those students. In most schools of our size, its left up to the student to seek out those resources," she said. Mohs is also a go-to person for the counselors for various essential tasks.
"I can't imagine doing my job without the help and support of Mrs. Mohs," Sotelo concluded.
Aside from her work life, Mohs most values the time she spends with her family: "I have a wonderful husband and three amazing daughters. Family time just means everything to me." Her favorite family activity is going hiking, especially at the Illahee State Park.
Mohs has also enjoyed volunteering for a New Life summer camp, and anticipates that she will return to leading activities during the camp later on.
Her overall attitude is one of gratitude, both for the support of her family and for the chance to do a job she enjoys. "I am so thankful to be working at CK high school," said Mohs. "This is one of the most rewarding positions I've had in the district, the staff and students here are just amazing. I think it was one of daughters that sent me a text message when she was going off to college that said 'you've inspired me to find a job that you, because when you come home you're just so happy and you love your job.'"
Mohs is undoubtedly an asset to both the staff and Central Kitsap High School and the students. As Erickson enthusiastically affirmed, "every senior should get to know her!"
About the Contributor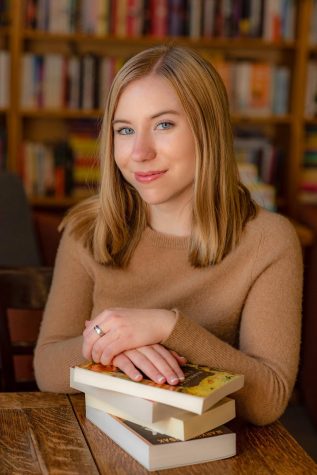 Aina Zabinski, Editor
Aina Zabinski is the Editor in Chief of the Cougar Chronicle. This year is her first year running Cougar Chronicle and the first semester has gone very...