"Captain Marvel" Review: Higher, Further, Faster
Marvel's new addition to the saga is an uplifting origin story, a must-see for Avengers fans.
Hang on for a minute...we're trying to find some more stories you might like.
"Captain Marvel," the most recent addition to the Avengers saga, is an action-packed origin-story that celebrates both the foundation of the Avengers and women in science. The fiery and hilarious heroine Captain Marvel, introduced in the outset of the film as Kree soldier Vers, is the first female superhero from the Marvel universe to get her own feature film. Marvel fans are rewarded with their fair share of Easter eggs and nostalgic Marvel comic references. The film's cinematic effects more than live up to the company's standard. Moviegoers who are less well-versed in the Avengers saga, but enjoy a good empowering action movie, will also appreciate the film.
Before the movie begins, Marvel gives a tribute to long-time cameo artist Stan Lee in the presentation of the Marvel logo. Instead of photos of the Avenger heroes, Lee's face alone lights up the big block letters.  "Captain Marvel" also gives an ode to the 90's era, complete with grunge clothing styles, pagers and payphones. There's even a Blockbuster store, in which Captain Marvel (at that point known as Vers) unceremoniously breaks an entry…or more literally, breaks a ceiling.
It's hard not to love a movie that features powerful, witty duo Captain Marvel and S.H.I.E.L.D agent Nicholas Fury–especially when there's an orange cat traipsing beside them. For all the glowing fists and fireballs, this movie is generally within the friendly, feel-good movie type. Captain Marvel personifies the strength and power of women, and the movie ends with a young girl gazing up at her admiringly as she blasts off into space. "Captain Marvel" also presents a subtle anti-imperialist political perspective (as it turns out the race of Skrolls, who are supposedly terrorists, are really just oppressed immigrants). Overall themes of the importance of humanity and self-discovery are also threaded into the plot.
Impressive costume design and cinematic quality makes the film visually satisfying as well. Captain Marvel's bright and shiny suit alone will no doubt become another symbol for women empowerment. Marvel effectively uses dramatic color contrast, smooth transitions, cool flashbacks and interesting visual perspectives to heighten the emotional drama. Marvel also experiments with intriguing voice over during a scene in which Captain Marvel's memory is being searched by a Skroll.
Unfortunately for those who love to watch Marvel movies at home on Netflix, "Captain Marvel" will not be appearing on that popular visual media platform. Since Disney now owns Marvel, it has the authority to control where audiences can view Marvel movies. Disney plans to move "Captain Marvel" and previously released Marvel movies to its own streaming service, Disney +. Lion King, Dumbo, Aladdin and Avengers: Endgame will also not be allowed to stream on Netflix because Disney + wants to ensure it has enough worthwhile content.
The least surprising but still exciting thing that viewers learn about Captain Marvel is that she will return in "Avengers: Endgame," which will be released later this week. Despite semi-limited access to the movie, "Captain Marvel" is an enjoyable and enlightening addition to the Avengers saga. A must-see for Marvel fans both old and new.

About the Contributors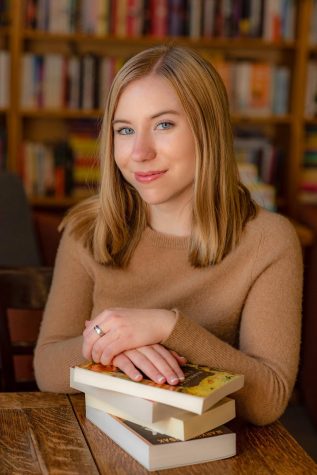 Aina Zabinski, Editor
Aina Zabinski is the Editor in Chief of the Cougar Chronicle. This year is her first year running Cougar Chronicle and the first semester has gone very...