The Ongoing Pursuit of Change at Central Kitsap High School
The student body continues to fight for changes in the school policy and culture.
by Jada Cowley, Reporter, Copy Editor, Business Manager

The first in-person school year at Central Kitsap High School in over two years is coming to an end. Students have left their homes to return to their desks, albeit with some added precautions, and this is the first full year of instruction for everyone in the new building. 
Now, with everybody back, one thing has become more and more apparent: there have been a lot of discussions surrounding change this year. 
Students are being increasingly vocal about what kind of changes they want to see reflect in the building. In fact, in the past few months, the front doors of CKHS have been witness to two separate in-school walkouts.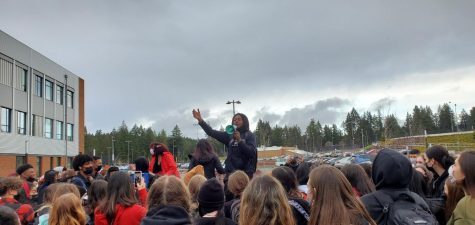 The first was held in protest of racism in the school building on Feb. 14, 2022. Organized by seniors Aaliyah Chandler, Kymeal Gaulden, and CKHS' Black Student Union, the walkout lasted approximately 30 minutes and garnered a large crowd of students in support. 
Several students took turns speaking about their experiences with racial prejudice at CKHS, an inadequacy in black representation, and most notably, frustration with a lack of action from school administration when it comes to the aforementioned. 
Another walkout was organized in April, this time in opposition to the passing of HB 1557, also referred to as the 'Don't Say Gay' bill, and hundreds of other anti-LGBTQ+ legislative decisions. LGBTQ+ students relayed personal anecdotes about their experiences and struggles to the mass of students. 
For each walkout, the response was strong and the crowd was passionate. Despite both being announced not too long before the protests took place, a large number of staff and students were in attendance. 
Cailey Wallace, president of CKHS' Gender and Sexuality Awareness Club (GSA), expressed her outrage towards these kinds of bills, concluding her speech by encouraging everybody to take action by reaching out to their government officials.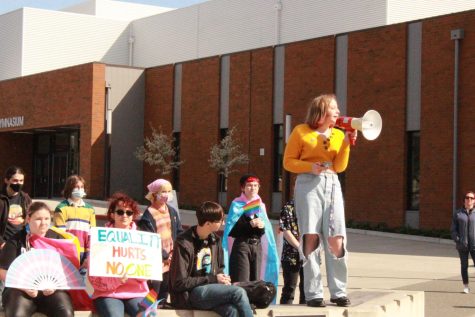 "I feel like the first walkout, especially with the BLM and Black Student Union, was amazing," said Wallace.
"I feel like that sort of opened the door for the school and the students to be like, 'Hey, we can do this! We can share our opinions a lot more, we can get out there a lot more.' and that sort of encouraged things on the Kugr Broadcast and in the weekly meetings. I feel like that had a really good impact, and I feel like the same happened for the LGBTQ walkout as well."
The Kugr Broadcast is CKHS' weekly video publication. Videos premiere every Thursday and consist of an array of skits and clips based on current school and real world events. 
Though the content is typically satirical, the broadcast has touched on some serious topics as well. A compilation of students addressing what they see in the school's culture and what they would like to see change aired a few months ago in collaboration with the attendees of a Student Voice meeting. 
Students in the video shared that they've seen students judging others gender transitions, saying slurs, discriminating against disabled students, a disconnect between staff and students, anxiety in the student body, and more. 
Almost all students disclosed that they have witnessed a form of harassment or discrimination in the building, and the majority asserted that they want changes to be made that will allow school to become a safe space for everyone. 
"Some of my friends have told me they've been harassed physically and I just didn't know how to respond. I think we should have more respect and be more vocal about that kind of stuff. I think it happens more than we think it does, and nobody's talking about it," said Katelyn Roth, freshman at CKHS.  
The school has tried to initiate conversations about bullying. Throughout the year, bullying and harassment has been a frequent topic in advisory discussions, bi-weekly classroom meetings, and lately, assemblies. 
There isn't necessarily a lack of discussion surrounding these issues, yet many students still feel like their input is going unheard. 
"I think there is definitely a lot of stuff that needs to change, especially with the way that the administration handles a lot of the issues that people bring to attention," said Zephyros Claassen, sophomore at CKHS.
Discussion about change and a lack of follow through can be frustrating, but it is certainly not a deterrent for the students of CKHS. The student body has been persistent and optimistic about what the future of the school could hold. 
"I'm really happy to see how much growth and strength in our student voices that's happened this year," said Wallace. 
"I've been here since I was a freshman. I remember way back then, even when we were put on lockdown, there had not been as many people who are so ready to be vocal about their needs and wants as I have this year and I think it's amazing and I think we're going in a really good direction with this."