CK Girls Varsity Bowling Heading to State After an Undefeated Season
Central Kitsap Bowling places third at West Central District.
Central Kitsap High School girls' bowling claimed third at West Central District's at Paradise Lanes located in Tacoma, Washington. Post district CKHS Bowling is state bound, playing at Bowlero in Tukwila, Washington, on Feb 2 and 3, 2023.
The bowling season had come to a close, leaving the girls team with an undefeated season of 14-0. Coming into district's after having this successful season "it was scary," said Mya Hagge. "You're a little too confident, but you also don't want to be overconfident, so you end up overthinking a lot."
Districts marked multiple milestones for the girls bowling team. Abbi Trout scored their first 200 series during the first game of the first round, starting them off strong for the rest of the day. Gracie Luk placed 4th in Individuals, scoring 564 across all of round one, and scoring her new highest, 244. 
"I was nervous because I was the only one last year to not make it to state from districts," said Luk. During the 2021/2022 season, Luk fell just a little short but showed a lot of improvement during the 2022/2023 season. 
Districts were composed of two rounds. The first round consisted of three games which focused more on individual ability. The second round consisted of four "Baker competitions." A baker consists of 10 frames where each bowler is responsible for two, bowling in order until the 10 frames are completed.  Bakers focus more on team ability rather than individual ability. The Girls Bowling team bowled 131 during the first baker, and 195, 124, and 154 in the following baker's. See scores from the first round on the right.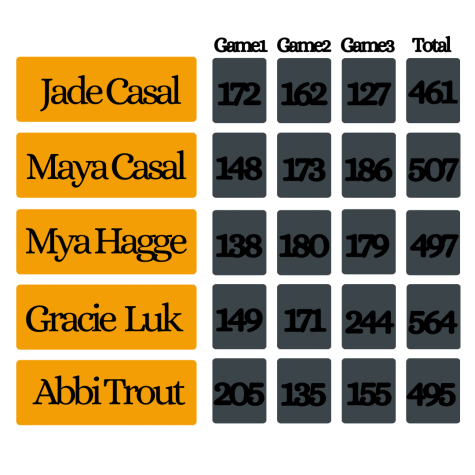 Members of the Central Kitsap Bowling team, and their two stand-ins: Taylor Lindstrom and Ferrah Capas, woke up at 4:30A.M. that morning, according to Jaravata. Bowlers arrived at Central Kitsap High School at 5:45A.M. followed by departure by bus. Upon Arrival, doors opened at 8:00AM and the first round of bowling started at 9:00A.M. The duration of districts lasted 6 hours, spanning from 8:00A.M. to 2:30P.M for the Cougars. 
"I'm sweating profusely," Hagge said. " I'm sweating in places I didnt even think I could sweat."
With 25 teams in the West Central District competing for the ability to advance to state, the alley was completely packed with spectators and competitors resulting in the temperature of room to skyrocket.
Just stepping out on the lane was enough to already make you start sweating, according to Hagge. Whenever Hagge was not playing, she could be found with her handheld electric fan trying to soak up whatever cool air she could, paired with her teammates passing around a paper fan.
More information regarding the CKHS girls bowling team can be found on their Instagram @ckhsbowling and in previous article "That's The Way Our Ladies Bowl." 
*Rocel Jaravata is a member of The Cougar Chronicle