Central Kitsap District Native American Heritage Month Celebration
Central Kitsap District holds a Native American Heritage Month Celebration.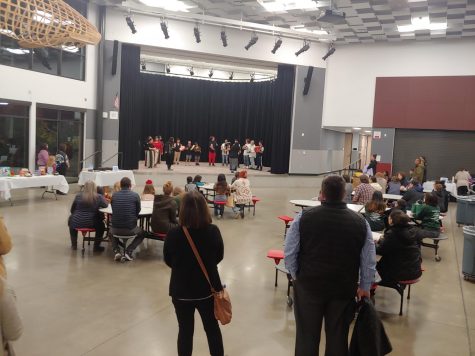 In honor of Native American Heritage Month, people around the country are celebrating in many ways. This year, the Central Kitsap School District held a Native American Heritage Month celebration in the Central Kitsap Middle School cafeteria on November 16. The event was open to all students in the district and their families and it was a blast!
The event opened with some traditional dances and songs performed by Central Kitsap students and staff members. There was also an independent performance done by Emri Brien. Brien performed an incredible jingle dress dance. It was enjoyable to watch all of the performances and really get to see some of that aspect of the culture.
After the amazing dances, people in attendance could roam through a number of exhibits at the event. These exhibits were brought by numerous schools in the district.
Oakwood Elementary students created a wampum belt replica with kandi beads and string. Olympic High School displayed traditional clay pieces that were handmade by students.
Brownsville Elementary students demonstrated how to make wooden structures. Central Kitsap High School students made corn husk dolls!
There were also exhibits not run by the students of our district brought in for the event. A really neat one was a learning center.
At this learning center exhibit, there were sheets explaining how things like baskets, hats, and clothing were made by indigenous people. They included a real example of the materials and even a basket on display! There was also a section of the learning center that had books and toys for children.
Outside was a great part of the experience: the food! The food served was fry bread. Visitors had the option to eat the fry bread plain or add a variety of toppings.
If you were in the mood for a sweet treat you could top it with cinnamon, sugar, honey, or jelly. If you were looking for something on the more savory side you could add lettuce, beans, and cheese.
I personally just got cheese on mine. It was my first time trying fry bread and I would definitely try it again.
The event was spectacular and an excellent educational experience. Everyone seemed to enjoy learning about Native culture. It was a really fun event and if they did it again in future years I would definitely go again. The whole event was well done and well organized. It was a truly amazing way for our district to come together and celebrate Native American Heritage Month.