From Symphony Seat to Zoom Screen: the Life of a Musician in Quarantine
Adapting to the challenges of quarantine lifestyle has caused multi-instrument musician Tia-Jane Fowler to grow and change, both as a musician and a student.
The Zoom screen flickers for a second as another participant joins the meeting, then comes into focus as a face appears.  Framed by two walls draped in strings of white LED lights, Central Kitsap High School sophomore Tia-Jane Fowler gives a quick wave.
With morning light streaming through the sheer white curtains to her left, Fowler, 16, is in her usual quarantine habitat: her bedroom.  Poking out from the edges of her video feed are the frames of watercolors hanging on her wall–the evidence of a hobby reawakened by time spent at home in isolation.   
Like many students, Fowler had to grow accustomed to school at home.   Without the normal demands of in-person school, Fowler needed to develop time-management skills to structure her days at home in order to accomplish schoolwork–and practice her multiple instruments.  
"I had a really rigid schedule [before quarantine]," Fowler said.  "I would go to school, and then I would go to music lessons or sailing, and [then I would be] coming back home at seven, and I was exhausted.  [Then,] I had to eat dinner and do homework within this many hours. [It] was like, the same cycle."
Fowler struggled with the creation of her own schedule in the beginning of the current school year.  The new independence of online, at-home school allowed her the freedom to decide when work should be done, and that led to some difficulties; however, she ultimately made a daily plan that works for her.
"Now it's up to me if I wake up at like 5 [a.m.] or 2 p.m.," she said with a laugh,  "[and to] initiate when I start work. It was definitely more rough in the beginning…but now I have some time management skills. So that's good."
This new schedule makes it so Fowler has more time for one of her passions: music. Along with being a student with a penchant for "a lot of AP classes," Fowler is a multi-instrument musician, playing piano, cello and violin. 
Fowler's journey in musical education began at age six, when she started piano lessons. A year later, she and her older sister, who had played violin in fifth- and sixth-grade orchestra, began taking lessons for violin from Fowler's first violin teacher, Melanie Kurtzbein.  This was the beginning of a continued devotion to the instrument–although her passion for it grew after a period of resentment.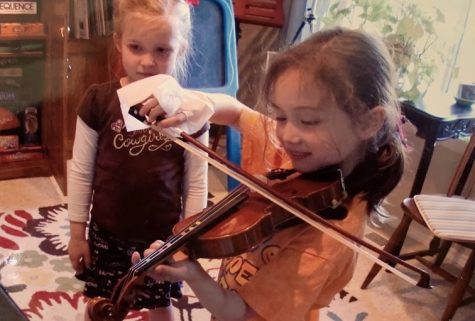 "When I was seven, I absolutely despised the violin…because it was something that I […] wasn't immediately good at," Fowler said. "Stringed instruments have a really steep learning curve…so I hated violin until maybe three or four years after I started playing it."
Fowler took up cello in fifth grade for orchestra, with her prior knowledge of stringed instruments aiding her in learning it.  She said that although she "loves the sound of it," she started playing it "with violin postures…[and] had to correct all [her] postures, but now it's really uncomfortable."
"I guess the discomfort part prevents me from enjoying [playing cello] as much as piano or violin…but I still like the instrument," Fowler said.  
Mid-quarantine, Fowler began lessons with a new violin teacher, which, along with an increased amount of free time, caused her to drastically increase her practice time.  
"As a violinist I've grown a whole bunch, because I do have more time to practice now," Fowler said.  "Because in quarantine what you do is all about priorities…[and] since I really liked this new teacher and I didn't want to disappoint her, I put violin [at the] top of my priorities."
Melanie Kurtzbein, Fowler's first private violin teacher, emphasized the importance of student drive to practicing during quarantine.  
"Overall, I don't see that quarantine hasn't necessarily caused students to practice more," she wrote in an email interview. "It all boils down to motivation, whether we're stuck at home or not.  Students may have more time [at home], but without orchestra, ensembles and live performances, students need to find new ways to stay motivated."
Throughout quarantine, Fowler not only found motivation when she switched to a new teacher;  she said that once she increased her practice time, she became more invested in understanding the music she was playing.  Close friendships with fellow passionate symphony members, now reduced from in-person interaction to texting, also increased her drive to improve, as her friends are "equally invested" in music and they motivate each other to learn more and perform better.
Kurtzbein also noted the importance of camaraderie in student motivation.
 "Orchestra and symphonic playing can be inspiring–you get to be a part of such a big, complex sound," she wrote.
Another change the COVID-19 pandemic brought Fowler was a lack of in-person performances–she said that she hasn't performed live for "at least a year."  Along with performing in recitals, she is a member of the Kitsap Youth Philharmonic Symphony and the Tacoma Youth Symphony.  Due to the pandemic and the inability to use a school space for practice, the Kitsap Youth Philharmonic Symphony was put on hold, but Fowler said that she has been attending Zoom rehearsals for the Tacoma Youth Symphony every week.
"It's definitely different…and it doesn't really compare to in-person rehearsals," Fowler said, twisting her long brown hair.  "But we're still going. And we're still making progress so that when we go back to in-person [rehearsal], we can hit the ground running."
Fowler also said that the Tacoma Youth Symphony created recorded concerts, where each member would send in a recording of their individual part to be added to a collective concert.
Although Fowler had some experience recording her performances on her YouTube Channel, she said that perfectionism has made her liable to re-record her pieces for hours.  However, she said she sees an upside to exposing herself to the recording process: when applying to music programs for college, she will have plenty of practice recording.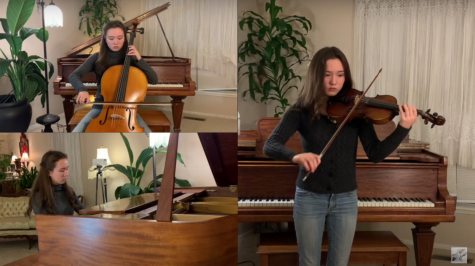 "The plus side to recording is that I'll have to record a lot for college, [and] this is a really good practice for when I have to do that," Fowler said. "I'm glad I'm getting rid of my weird recording anxiety so that I can be better prepared for college."
Time in quarantine has thrown many challenges in Fowler's path, from tendonitis as a result of over-practicing, learning time management, and adapting to online lessons and rehearsals, but through it all, music has accompanied her. She said that many times, she's able to connect her musical education to other aspects of her life–for example, music history to her world history class. 
"I love music history [because] we learn about things [in school], and then I can intertwine it with the music history that I have learned," she said.  "Like right now in AP Modern World [History], we're learning about Napoleon, but I personally know [about]…the complicated relationship that Beethoven and Napoleon had."
Music education has also caused Fowler to view life through a new paradigm.
"In general, [music has] definitely made me pay [more] attention to…the things that are easier to [overlook]," Fowler said.  "Not just music, but different aspects of life."  
Fowler explained that instead of "listening without analyzing" and hearing "just a nice melody," she has become perceptive to "a lot of really intricate things that are present in classical music,…[which she's] learned to appreciate."
Outside of her devotion to music and school, Fowler spends her free time watercoloring, drawing, and spending time with her pet chickens.  She cares deeply about the birds, making time to tend to them even with her busy schedule; this kindness and empathy is reflected in others' perception of her. 
 In several email interviews, Fowler's acquaintances spoke of her good character and work ethic.
"[Tia] lives the way I think we should all live — with our arms wide open–courageously welcoming the people and experiences life has to offer," Chris Mygatt, Fowler's seventh- and eighth-grade English teacher, wrote in an email interview.  
CKHS sophomore Esther Lampan, who has been friends with Tia since fifth grade, wrote in an email interview that Fowler takes on "more than [she] could ever imagine," with lessons for three instruments, symphony practices, and five AP classes.  Lampan wrote that she takes lessons from the same piano teacher as Fowler, and she knows that Fowler is "incredibly talented and fine tuned to the nuances in her pieces" from watching her play at recitals.
"Tia is one of a kind," Lampan wrote. "Despite all of her accomplishments, she remains inexplicably humble and is one of the most genuine people I know. I'm glad that she's in my life."