CKHS Class of 2023 Valedictorian: Tia-Jane Fowler's Story
As the 2022-2023 school year at Central Kitsap High School finally comes to a close, graduation looms ahead.
Central Kitsap High School hosted its own class of 2023 graduation ceremony on June 17th, celebrating the graduating seniors' accomplishments and wish them farewell into their future.
As is tradition with most graduations, CKHS will have a class valedictorian giving a speech who was selected for numerous honorable reasons.
This year, the CKHS Class of 2023 Valedictorian was Tia-Jane Fowler.
"I was in the middle of the State Solo and Ensemble competition, and I was standing in the center of a really crowded Recital Hall," recalled senior Tia-Jane Fowler. "Mr. Johnson called me and told me that I received the valedictorian title."
CKHS Senior Tia-Jane Fowler would be selected to receive the valedictorian title due to numerous factors, such as taking high level classes, achieving excellent grades, and engaging in a plethora of extracurricular activities.
"I'm just finalizing the details right now," said Fowler when asked about her speech. "I've decided the main takeaway that I want my speech to have is a strong call to action at the end."
While Fowler wasn't fully aiming to be chosen for the valedictorian title, she could understand why she was, acknowledging this by stating, "I think along the way, all the work that I did led up to being chosen."
The choice of Fowler being selected for the valedictorian title, becomes more apparent when this work is listed.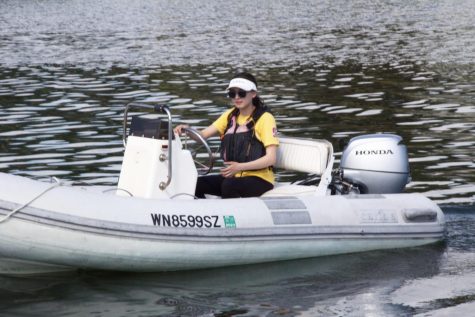 "I took AP Psychology in my sophomore year and I learned a lot throughout the course but still had questions that the course didn't answer so, I reached out to a research professor at the University of Puget Sound and we ended up talking a lot about animal psychology and her animal research lab," she said. "Through that conversation, she offered me a position in her laboratory and I've been working there all summer."
Fowler continues, "I'm also taking AP Computer Science and during Freshman year I got accepted to the Stanford Code in Place course, where I learned the basics of a new coding language and built off of what I learned in computer science at CK. And then this last year, I applied for the instructor position for that same program and for the last six weeks, I've been teaching the Stanford Code in Place course to travel around the world. Some other things that I think might of been considered when I was chosen for valedictorian include teaching a sailing course and developing some new curriculums to teach environmental science to sailing camp kids, my language program through the Department of State with people in China, and then some other smaller more sporadic things I've done throughout the years."
With all of these accomplishments added together along with graduation coming close, Fowler, like many other seniors, has begun to make plans for her future.
"My plans for next year are to pursue computer science at the University of Washington and double major in violin performance," Fowler stated. "It was very difficult choosing colleges to go to, and I ended up rejecting a lot of colleges I didn't want to go to. Ultimately I decided that the combination of the financial aid that UW offered me and the computer science program would be the best option for me."
Throughout her high school education, Fowler would be taught by many different teachers who would help her get to where she is today. A few of these teachers, though, would stand out to her.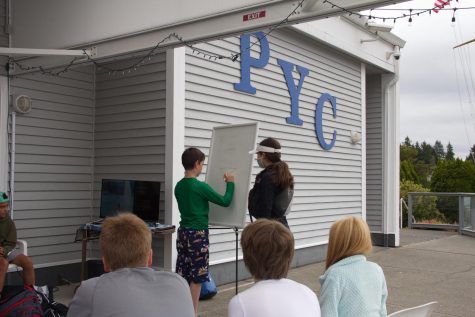 "To name a few, Mr. Woods really helped me see my potential in music. Through his orchestra teachings I've been able to access a lot of opportunities, like most recently at the State Solo and Ensemble competition, I won second place in solo violin, which I believe is the first time a CK Student has placed in that category. Also, Ms. Adams has really believed in me and helped me grow my self confidence since I took her class last year, and Ms. Szczepanski for teaching AP psych which she taught really well and inspired me to pursue it outside of school."
With the school year coming to a complete close for Juniors and underclassmen in one week, as well as new freshmen enrolling at CKHS in just a few months, Fowler offers some advice to these students.
"One thing I learned throughout the years at CK is that there are more opportunities than you can see. If you can find the courage and take the initiative to create opportunities for yourself, like reaching out to someone to ask about something that you're interested in, go ahead and do that because the worst thing they can say is no."