Getting To Know Tracy Kolhbeck
Tracy Kolhbeck is one of our wonderful library clerks at Central Kitsap High School, along with Nichole Fisher. 
Kolhbeck has been working for CKHS since 2006, taking a four year break in 2012 and coming back in 2016.
Her favorite memory at CK was a surprise planned by Mrs. Caouette right before she left.
"Back before I left in 2012, I used to work with Mrs. Caouette, who is now down in the main office," said Mrs. Kolhbeck. "She set it up to surprise me on one of the broadcasts where the broadcast team went around and had I don't even know how many students say 'goodbye Mrs. Kolhbeck, we'll miss you' and they showed that on the broadcast, I just started crying. I still have that saved on my computer at home because it was just so special to me."
Kolhbeck has loved reading ever since early childhood, her favorite childhood memory was riding her bike to the local public library every day all summer and reading as many books as possible.
Her dream job has always been to work in a library so she really is living her dream. She first started working in the library at Green Mountain Elementary School in 1999.
"When I learned to read I was six years old and it was like magic, those little black squiggles on the page actually started to form words and there was no looking back then," said Kolhbeck.
Her favorite thing about working at CKHS is getting to help and see all the students at CK. One of the ways she is still doing that is through a virtual book club. Still, her favorite part of her job has become very limited with COVID.
"I don't get to see students nearly to the degree I used to, and even seeing my co-workers has dwindled down, until Mrs. Fisher comes in at noon," said Kolhbeck. "I'm generally here about myself from 7 a.m. until noon every day, and the library makes a lot of weird noises when it's totally empty… It's almost creepy to come in and none of the lights are on…you'll walk in and the lights come on and to walk down a hallway and have the lights click on, click off, click on, it's kinda like being in a teen slasher movie."
Without students in the school Mrs. Kolhbeck keeps herself busy with troubleshooting Chromebooks over the phone and getting ready for the second textbook checkout, though she misses seeing students face to face.
She said the most surprising part of her job is the fact she doesn't get to read as much as someone would think she would working in a library.
Her favorite genre is horror while her favorite author is Steven King, even going as far to say she thinks she's read everything he's ever written.
Kolhbeck moved around a couple of times during her childhood, she was born in Terrell, Texas and two years later Robertsdale, Alabama where she lived until she was eleven. After that she moved to Key Largo, Florida where she lived till she was 22. As a child she got to swim in coral reefs and enjoy the warm 72 degree weather in January. 
When she was 22 she moved to Homer, Alaska, she met and married her husband in 1983. They will have been married 37 years this year in September. 
When she first moved to Alaska her and her husband's mom set them up on a blind date when he came home on leave. 
Kolhbeck has 2 sons which she feels are her greatest accomplishments as well as one very fat and spoiled cat.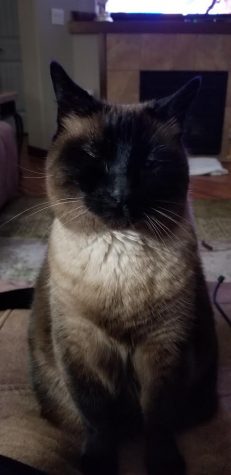 Kohlbeck plans on being retired within the next ten years, in wait of her retirement she has about 500 books on her kindle and a large collection of crafts awaiting her. By then, hopefully travel will be possible again and she and her husband can complete their plan to travel around the world.
CK wouldn't be the same without Tracy Kolhbeck and the love she puts into her work.