Kitsap County "Holiday Gift and Food Fair" Returns
For the first time since 2019, Kitsap Country is hosting the Holiday Gift and Food Fair, an event centered around promoting local crafters and artists.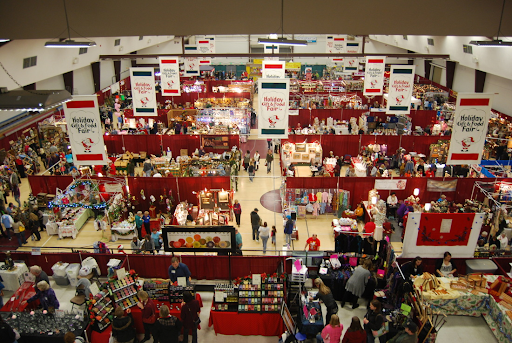 The month of November is full of anticipation for the coming holiday season. Festivities and events surrounding winter holidays begin to take place. One upcoming themed event is the Kitsap County Holiday Gift and Food Fair.
Every year, the Holiday Gift and Food Fair gives hundreds of local Kitsap crafters a chance to showcase their products. The event is filled exclusively with hand-crafted art and food items. The Kitsap County Fairgrounds guarantees that all exhibitors invited will present a "top-notch, quality, professional show." 
President of the organization #1 Promotions, David Andersen, started the event 35 years ago with his wife Barb.
"Expect a wide variety of handcrafted items that are made from professional Northwest artists," Andersen said. "We do not allow any imported items for people to bring in, or we try our best not to, because that's not the purpose of our show."
Community members of all ages are invited to attend the event on November 18-20 to get a jump on their holiday gift shopping. Items sold at the fair include woodworking, paintings, pottery, jewelry, clothing, children's items, desserts, and much more. See the list of which crafters will be showcased here.
The Holiday Gift and Food Fair contains a variety of shows and displays that are relevant to student life.
"For high school students, it could give them an idea if they like art classes, or interested in woodworking or metal shops or those kinds of things that are offered in the high school," Andersen said. "The opportunity to see some of those trades that are used for people to make some really cool things."
To ensure that all the displays are of the highest quality, a potential booth owner must submit photos of their items or display to be judged by a board of jurors. They decide if the items are good enough to be presented at the fair.
"We've had little kids or high school kids over the years have a booth in the show because their product was unique," Andersen said. 
"
This show is the largest and most spectacular show of this type under one roof in the entire Olympic Peninsula"
— Holiday Gift and Food Fair website
Admission for students is six dollars, with free parking. Children under twelve get in for free, with the accompaniment of an adult or guardian who has purchased a ticket. There is a discount for military and senior citizens attending.
All tickets are valid through the entire weekend and can be purchased online or at the door. 
Kitsap County is working hard this season to promote local artists and charities. There is a one dollar discount coupon available with the addition of a can of food ready to be donated. Tickets are available for free to anyone who brings a toy for the annual "Toys for Tots" toy drive conducted in Kitsap County every holiday season. 
"That's been a positive thing that we feel good about trying to give back to the community… you're helping people that need help, not only during the holidays, but throughout the year," Andersen said.
Due to rising COVID-19 cases in 2020 and 2021, a decision was made last minute to cancel the gift fair for safety concerns. This year will be the first time the Holiday Gift and Food Fair has been held since 2019. 
This event has been described as an "indoor holiday shopping extravaganza" on the official website. The Kitsap Sun Pavilion has been preparing to house 180+ booths for community members to begin enjoying their holiday season together.