Teens' Obsessions With Spotify Wrapped
The Yearly "Spotify Wrapped" Is Becoming An Early Holiday Tradition for Spotify Users
As the year turns into December, one of the biggest gifts for some is the first look of their "Spotify Wrapped." The popular streaming service, which named the user's review as "Year In Music" in its debut year of 2015 and then rebranded it as "Spotify Wrapped" in 2016, has revealed Spotify users' data from 10 months of the year every year. The data would include how many minutes the user listens to the streaming service, top five most played songs, top five most played artists, music personality, and many more.
On November 30th, Spotify users would go on social media in droves to show out their music interests to their friends and followers, with most Instagram Stories flooded with Spotify wrapped commentary.
"I just like to show what I listen to often and this is my favorite music," senior Colin Rooney said about sharing his Spotify Wrapped.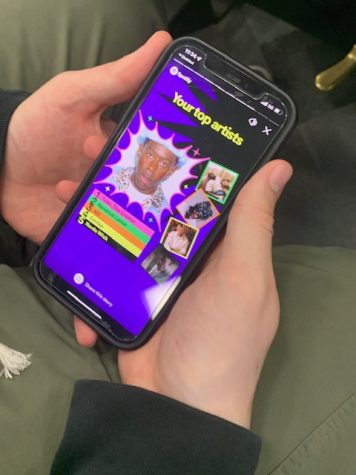 When the 2022 Spotify Wrapped was officially available, some were surprised with either how much they listen to music in general or certain artists they listen to that they didn't realize would be higher in their lists.
"It's always funny, when I like to see how many hours I've spent listening to certain artists," said Rooney. "It's just always intriguing to see that."
Spotify users that are interested in being upfront with their music taste and personality can have fun interactions and engagements with other people's Spotify Wrapped and learn people's personalities with the music they listen to.
Spotify Wrapped for others can make users realize how much they have changed throughout the year with their music. Some people's music taste may change along with their personality as the years continue.
"It's funny for me because a lot of people don't realize how much they can change throughout the year," said senior Calvin Lumadue. "Because your music can influence you and what is your personality."
The chances are that some users will also forget how much of a certain artist they listen to in the earlier part of the year then in the later part of the year.
"Somehow Post Malone got second place," said senior Nico Escamilla. "I knew I listened to him but only through the summer."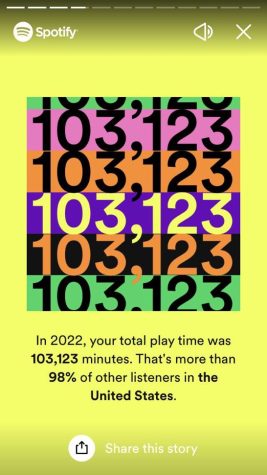 While the popular trend gives an option for users to be outspoken about their music personalities for people to see, some were still underwhelmed when looking at their results to share them with fears of being looked down upon by the music they listen to.
"Oh my God it's terrible, I listened to 'Mo Bama' like 400 times," senior Josh Gelito expressed.
The trend of Spotify Wrapped has also inspired other variations of showing data about someone's music habits like "How Bad Is Your Spotify?"or even with McDonalds doing their "What Does Your McDonald's Order Say About You" with a Spotify Wrapped format with food habits and stats.
This popular social media engagement and campaign with Spotify users only seem to be getting more popular with an increase of millions of shares on social media every year from its mass appeal to anyone and is soon becoming an early holiday tradition for some Spotify users.