'What Doesn't Kill Us Makes Us Hotter, Ladies!' – One Month Until 'Legally Blonde' Opening Night
Actors and tech crew are feeling the pressure of the upcoming opening night of "Legally Blonde: The Musical"
They're a little over a month into rehearsal, and CKHS's production of "Legally Blonde: The Musical" is coming together.
This week, the cast and crew were focusing on putting together choreography. After school, actors changed into jazz shoes to begin working on their songs. Zee Gemmer, who is playing Enid Hoops, showed off their skills at the "Jazz Square" during rehearsals.
The cast has been rehearsing for up to three hours every weekday for about two months to prepare for opening night. 
Jenna Hernandez plays one of the main characters, Paulette. She's a hairdresser who convinces the main character Elle not to go brunette and inspires her to keep fighting. 
"This week we're running through scenes and songs and in isolated chunks," Hernandez said. "Next week we will be alternating act one and act two, and then the following week we're running the show. Then we open, so we're really in crunch time. Costumes are starting to come in. It's getting a little stressful but we got a great cast here." 
Some actors are more busy than others. Kirsten Perry plays multiple roles throughout the show, including Chutney Wyndham, a prison inmate, and a hair salon stylist. 
Most of their songs require multiple dancers on stage at once. In the song "Whipped into Shape," a few dancers are required to handle a jump rope as part of their choreography.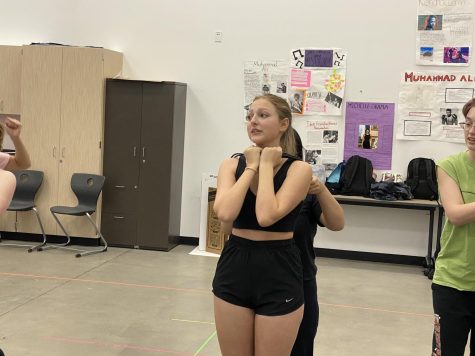 "I'm currently jump roping while singing, which is very bonkers," Kirsten Perry said. "I'm enjoying it so much."
The actors ran this dance over and over again, and were working up quite a sweat.
Zee Gemmer is playing Enid Hoops, a Harvard student who works with the main character Elle Woods (Haley Robinson). 
"I would say she's one of the most iconic Harvard students because she is a super slay feminist lesbian," Gemmer said. "And she is studying to be a lawyer because she wants to make a difference in the world – and I think she's super cool." 
More than one thing is happening during rehearsals at all times. The production's director, Mr. Timm floats between groups, checking in on progress and asking questions.
"We're currently working on putting the show together. So today we're working on choreography, but yesterday we were working on putting choreo and songs and lines and blocking altogether, so kind of doing a lot of stuff at once," Gemmer said. 
Because so many things are always happening, a few students take charge during different activities. The stage manager Teddie Schmitt and the assistant stage manager Gabriella Clifton watched the dancers and took notes on what could improve.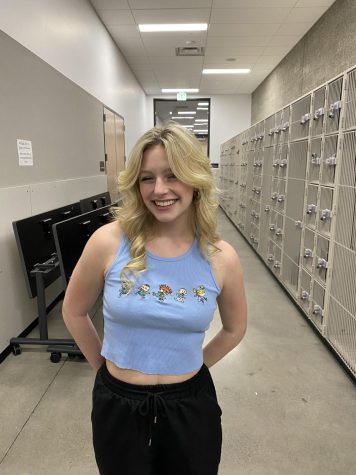 Clifton and Schmitt have also been developing ideas for the costumes. They work with the dancers to find outfits that are suitable for their dances, as well as fitting into the time period. The original movie "Legally Blonde" was set in 2001, and the musical essentially follows the same timeline.
The stage managers are also figuring out color schemes. The costumes have to be cohesive, while still being able to differentiate the characters from one another. 
With so many things going on, the cast and crew are working very hard to get everything perfected for opening night. 
"Legally Blonde: The Musical" is opening on May 11 at the CKHS theater, and will be performing for only two weekends. Tickets are available online now. 
Sneak peek at what's going on in rehearsal: A clip of Nicole Cox, Kenzie Von Ruden, Liz Suarez, Mya Hagge, Annabelle Havers, and Joss North working on one of their songs, with Haley Robinson.