Rachel Sebastian: Traveler and Spiritual Advisor
Rachel Sebastian gives a more in depth look into her job and travel
"Location independent" spiritual advisor Rachel Sebastian's work has been left mostly untouched by the global pandemic, but her ability to travel has been greatly impacted. 
Sebastian's current occupation allows her to work from the comfort of her own computer.
"My work is a spiritual teacher, and a trance medium. So I channel the angels as a collective, and I channel lost or estranged or deceased loved ones and help them to facilitate the connection and communication between them [the client] and their loved ones," Sebastian stated. 
As she does most of her work from her computer, the COVID-19 pandemic did not have massive impacts on her work and ability to connect with people. The biggest change was the impact it had on her ability to host in person intensives and workshops. 
Sebastian explained that although the majority of her work took place online, larger events were where she made the majority of her income. With the era of COVID-19, she had to transfer those in person gatherings to online as well. 
Because the majority of her work is done online, Sebastian is able to travel frequently, immersing herself in the world of other cultures. She has traveled to and lived in Asia, Europe, Costa Rica, and India. 
When Sebastian travels, she finds herself staying there for months, choosing locations less driven by the desire for tourism and more for the desire to live the life of people in those countries.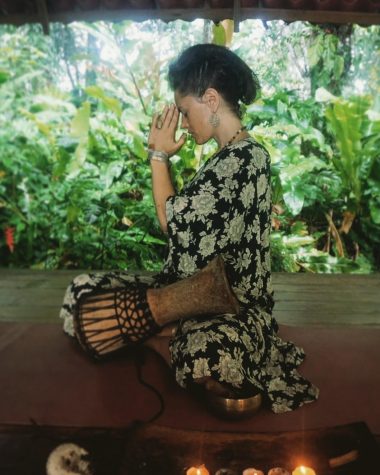 "It's like you're traveling to a different dimension and living in a completely different world because the world around you occurs differently, and that's how it was when I was in, for instance, Asia. All those years there was almost zero connection between my community there and here." Sebastian explained. 
"You have a different partner, different friends, different job, a different employer, different environment, different food, different culture, and you come back and have this feeling like somethings missing because nobody in the place that you're at now knows your other life and understands it," Sebastian said.
In February of 2020, Sebastian was in Costa Rica when she suddenly felt an urgency to return to the states. Two weeks later the general population was informed of COVID-19 and the ability to travel was shut off. 
Since then, Sebastian has not been able to travel outside of the United States, and although she has traveled within the country's borders, the pandemic has altered her experiences. 
"I went to Los Angeles. It was very sad because I see Los Angeles as this place that is booming with this energy of potential reality and dreams being fulfilled… and this time, it just felt so depressed and suppressed and sad." Sebastian explained.
"The energy of Los Angeles, it was like The Twilight Zone, it was like a ghost town in many ways, and the vibrancy of the social scene that is usually going on was just dead," continued Sebastian.
Because of the changed energy of Los Angeles and other places due to the pandemic, Sebastian has not been traveling as much or as long as she usually would. Instead she has been turning her attention towards settling down and putting out roots. 
At the moment, Sebastian does not have a specific location that she calls home, but she desires to build a retreat in Oregon – place where she can settle down and live independently. 
Her desire is to create a self sustaining sanctuary, a place where she can drill her own well and grow her own food, where people can go to heal. 
For now, Sebastian will continue staying with her parents in Sequim and working from her computer, but she hopes that the pandemic eases soon as she has so many places that she still wants to travel to.