Linda Roberts' Tumor Diagnosis
Linda Roberts discusses her tumor, recovery, and the overwhelming love and support she received from the CK community.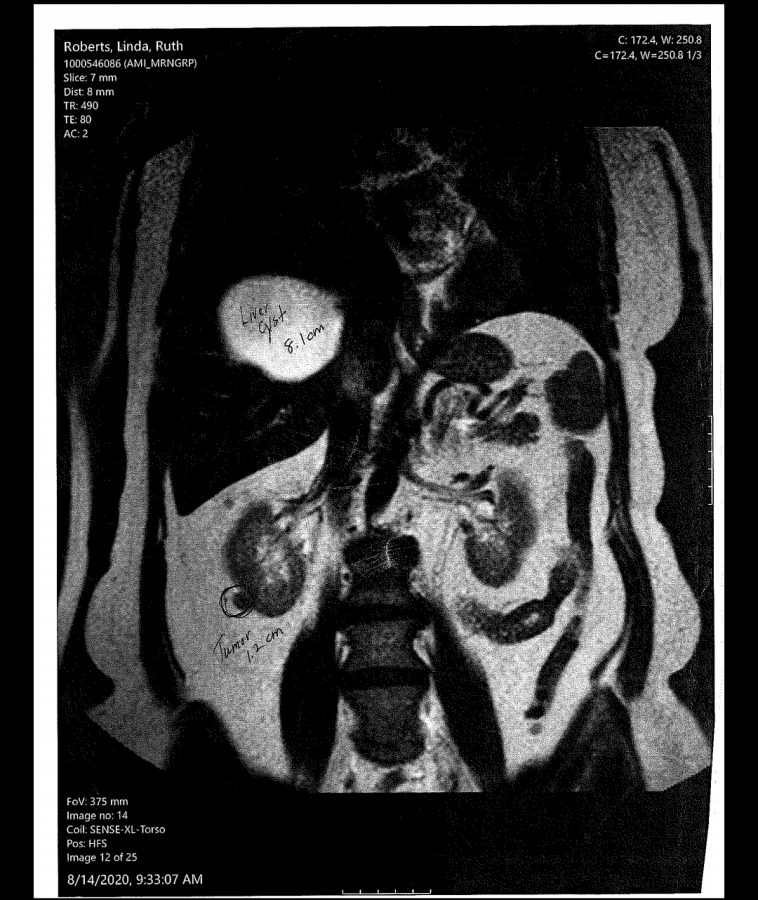 Post partial nephrectomy, Linda Roberts' doctor informed her, "the good news is that the tumor wasn't cancerous and it was successfully removed. The other good news is that it's good we removed it, or it would have killed you."
"You mean might have killed me," Roberts said.
"No, I mean would have killed you."
On Oct. 6th, Linda Roberts, a wife, mother, grandmother, Central Kitsap Middle School counseling secretary, and member of the CK community underwent a robotic surgery after a kidney tumor was discovered in an MRI that was originally being performed for back pain. The tumor was a rare diagnosis, and had it been left untreated, it most likely would have ruptured, causing her to feel very tired and fall asleep, leaving her to bleed out.
But now 4 weeks into recovery, she is "feeling great!" Her arms are still green and her stomach is still bruised, with 5 incisions and 14 staples. Roberts has one remaining spinal tumor that is not currently active, cancerous, or dangerous, and it will be left untreated unless it grows. 
Tumors and cancers are common in her familial medical history. Roberts' oncologist suggested a genetic makeup to scan for a gene, either TSC1 or TSC2, ultimately tuberous sclerosis syndrome.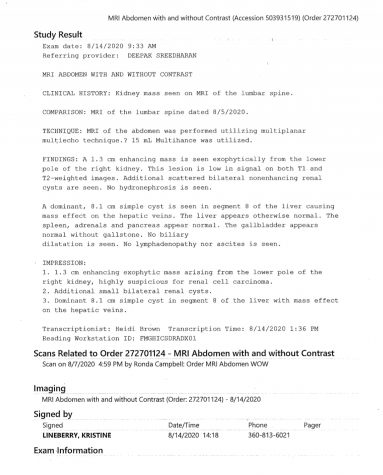 Roberts never believed her life was in danger. "I was not afraid of surgery because I've had surgeries before…pain is just pain," she said. "I've definitely learned to listen to my body…I'm learning to be kinder to myself."
Roberts relied on her faith throughout this experience, as well as the other "three F's" – Family, Friends and Feistiness. The first of the four F's, family and friends, completely overwhelmed her with love and support. She continues to receive soups, lasagnas, cards, notes, flowers, and teddy bears from members of every aspect of her community – from colleagues and coworkers to friends and in-laws, and even former Central Kitsap students. 
"My son-in-law's sister drove all the way up from Olympia just to drop off a gift basket without even seeing me," she recalled.
When she first called into the district to ask for a work adjustment to accommodate her temporary needs, essentially the first thing they told her was, "whatever you need, Linda – we're here for you."
That seemed to be the common theme throughout the supportive messages – "we're here for you." This amount of support helped her recognize how loved she was by the community, helping her feel grounded and connected through the adversity. 
But one of the strongest stories of community support was when her coworkers and friends showed up to simply walk with her at the school track. 
"I sent an email to the office and said, 'I'm walking on the track if anyone wants to keep me company.' And one after another, people would come down. They'd walk a couple laps with me and go back in and then somebody else would come out. And it motivated me to keep walking, but it was just nice to connect with them like that."
This community support represents how Linda Roberts is loved, respected and needed as a family member, as a dear friend, as an employee, as a member of the CK community, and most of all, as a human being. However, she just doesn't matter to the people – the people matter to her. When she wasn't discussing her surgery or recovery, she was talking about her family and friends and what they mean to her. To her granddaughter Alex Miller, Roberts is "definitely a strong person and has a lot of selflessness in her." 
In a moment when she could focus only on herself, she chose to open up and talk about her journey with those who helped her. Linda Roberts, simply put, cares. She cares about herself, but also those who help her be herself. She cares about the community, about her friends, about her family, about her job. "If she could help everyone, she would," Miller concluded. 
About the Writer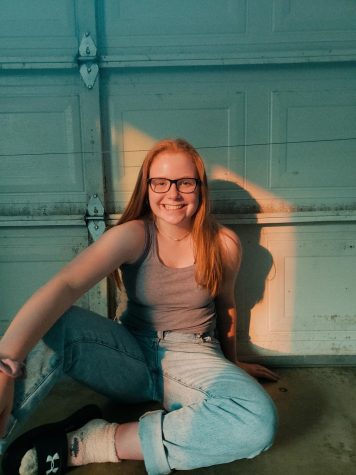 Rosalie Johnson, Section Editor
Rosalie Johnson is a freshman at Central Kitsap High School. She joined journalism because she likes to stay up to date on recent events, specifically...