Silverdale's Lone Star Donuts
The in's and out's of Silverdale's new donut place.
Silverdale finally has a donuts place and it has been met with stunning reviews and feedback. Its fast lines, great donuts, and clean inside has earned it multiple compliments.
"There's nothing really local here before and it's nice to have something here, and they're just amazing donuts," Curtis said, a customer who already loves Lone Star Donuts.
"The atmosphere's really inviting, all the staff are really friendly, and great donuts," Curtis said.
Their donuts are homemade that range from the dough to the multiple flavors of jelly and icing. They also have an array of menu items with more that are still on the way, but it'd be difficult for this all to be run by one person, which is why Omar Santigo Gomez has family backing him up in the kitchen, this family aura helps rub off on employees as well, giving Lone Star Donuts a nice air of friendliness. 
Omar's favorite part about Lone Star Donuts is when the customers leave happy, but for that happiness to occur, he has to wake up very early.
"So I wake up at one in the morning. Get ready, then we have to be here at the latest, two," Omar said.
Omar is a big part of Lone Star Donuts, though, he doesn't have an exact task he's designated to do.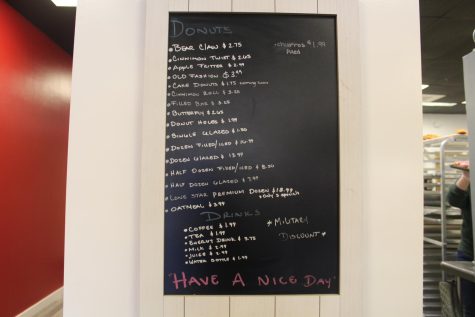 Lone Star Donut's menu.
"I basically do a little bit of everything. I help the front, I cut dough, I fry, I decorate the donuts. I don't really have a routine, I'm just here, there, grocery shopping, you know?" Omar said.
His and everyone else's hard work pays off with the amount of donuts they sell, which is busy on weekdays and weekends. They serve around 4,000 donuts on the busiest days and on regular days, it can range from 1,500 to 2,000.
"It's hard sometimes, because you have to be welcoming, even though you might be having a hard day or not, but we try our best to make everyone welcome and just be positive. I've been working in the customer service industry for almost 12 years, so you learn how to deal with people," Omar said.
Omar's long years in the service industry definitely helps when dealing with any rush that may come along, and Sandra Arraygue, an employee there, is able to handle it just as fine and loves working there just as much as the customers that love their donuts. 
"My favorite part about working here is that we're pretty much like family so it doesn't feel like we're working here. I wake up in the morning and I'm not regretting coming here," Sandra said.
She luckily doesn't have to get up at 1 or 2 to open the restaurant, and has more straightforward duties. 
"I wake up, I get here to open, sometimes 5:30, sometimes 4:30, and I get done what needs to be done. I do the coffee, I put all the labels up for the donuts, I see a bunch of customers everyday which is awesome. It's pretty much the same," Sandra said.
Sandra also has years of experience in the service industry, giving her a good handle on the multitude of customers that come through. 
Lone Star Donuts isn't just famous for its vibe and donuts, it's also popular for how clean it is on the inside. This is due to the fact that they check the bathrooms every 2 hours to see if they need to be cleaned or not, and of course if they see a dirty table, they'll clean it right when they can. To sum it up, every two hours they'll see what needs to be cleaned, and clean it.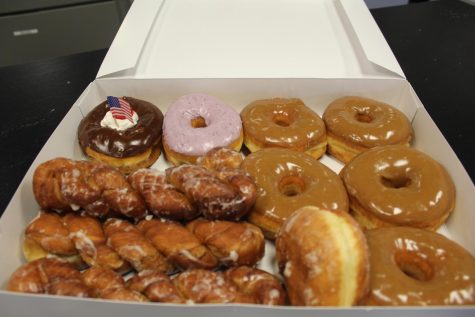 Silverdale finally has a donut shop and it's already been met with so much love. With their array of menu items, great hospitality, timely serving, and cleanliness, this makes Lone Star Donuts a place to keep your eye out for.