Coach Keel and the Cougar's Path to Victory
In-depth feature on Coach Keel and him being the CK Football coach.
Mark Keel, or more known as Coach and or Mr. Keel, is the head football coach and the new Pearson Connexus teacher for Central Kitsap High School. 
Keel had always had a love for football. He played college football for the Arizona Wildcats and was even a professional football player himself, playing for the Kansas City Chiefs. This meant he was in PAC 12, originally called PAC 10. But after Keel retired, he decided to share what he learned with others. 
"Well, I played football all my life. And I was fortunate enough to play…PAC 10 professionally" He said. "I just felt like once I was done, I needed to share what I'd learned with young people"
In all of his coaching years, Keel believes that the development of relationships between the players can help them become comfortable and build better, tighter bonds.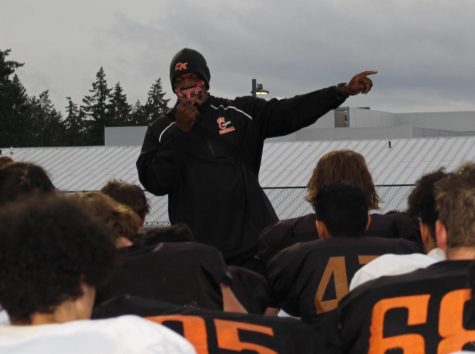 "I think just having the opportunity to be here all day with the football players and they feel comfortable coming to you, they know where you're at, I know where they're at," Keel said. "I think it helps develop a tighter bond and relationship which is something that you really need, I think on a football team."
Keel learned to love his team as the years went by. Seeing them grow from freshmen to seniors. With what they do in this sport, he also believes in what they can achieve. 
"You know, I have the opportunity to meet those guys when they come in as ninth graders and then to see them leave as young men, young adults,…seniors." Keel said. "You do learn to love them because you're asking a lot [from] them. You just think of the nature of the sport and what you're asking these young men to go out and do. They have to believe in [themselves] and they have to believe in me… that just comes from developing a loving relationship."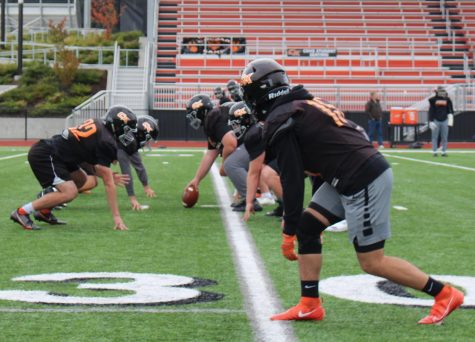 Not only does he have positive quotes for his players, his players have some as well. 
"…I think he's a great hard working man, a great coach with a good program he has going on." Samuel Lara, CKHS football player, said. "I believe he's going to be a great teacher this year".  
Some can also credit him for how passionate he is. Such as Elijah Martin, CKHS football player.
"I feel like he is a good coach." Martin said. "He's passionate, very passionate." 
The most favorable times Keel has with his team are when they're all together in the weight room working hard together. Not only physically, but in a way that develops the guys' relationships with each other.
Excluding football, Keel also has a love for golf. Golfing is a hobby he picked up a couple of years ago. According to Keel, he said if he started at a younger age and worked on it, he might've been a professional golfer.
There are times in Keel's opinion where he forgets to be humble and then he has to remind himself to be humble. It's one of the biggest things he had to learn as a coach   
"I think sometimes I can forget to be humble. I can forget humility." Keel said. "So even [when] I check myself I know my wife and my kids check me sometimes where you know, I start getting into my competitive mode. And I remember to stay humble."
The CKHS football team wouldn't be the same without Keel coaching and guiding them for years.