Meet Varsity Cheer
A quick glimpse into CKHS Spirit!
Central Kitsap High School's varsity cheerleading team, made up of 15 individuals, is the heart of school spirit. You can find them flipping, flying high, and leading the crowd with pride at every varsity football game, as well as many other home varsity sporting events.
However, many people do not understand that cheerleading is much more than just a uniform and a bow.
"I wish people knew how hard we actually work, and how many hours we put in. We don't just come out here and do this," Senior cheerleader Isabel Redd said. 
The team practices multiple times a week from late spring, until the end of the season in March. 
"We condition all summer long, and all season long to make sure our bodies are able to lift other bodies, it's a lot of stress," Head Coach Delaney Bartlett said.
In the middle of the summer the team is split into two teams. Game day consists of all 15 individuals who attend all game day events, and competition is a hand selected group of individuals who will piece together a routine to compete in front of a panel of judges at a number of WSCCA cheerleading competitions across Washington state, and hopefully earn a score high enough to qualify for the state championships in February. 
"We do a full competition season right in the middle of football and basketball season, and a lot of people don't know we work so hard during that time too," Bartlett said.
Cheerleading is an incredibly challenging sport, but it is no secret it is full of reward; when one spends as much time together as these athletes do, strangers become friends, and friends become family.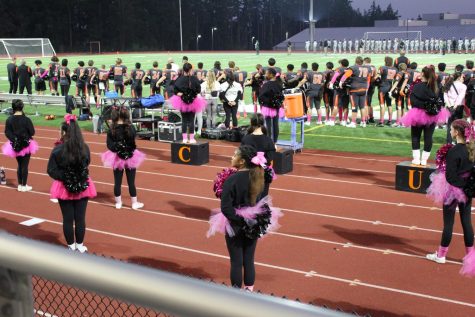 "It feels like another family. I get to have a bond with people I wouldn't normally be around and it's really uplifting," First year cheerleader Peyton Hlavaty said.
According to Redd, being able to learn and grow has been rewarding for her. 
Bartlett said that seeing the growth of her athletes has been the most rewarding aspect of it all for her.
"I'm seeing them reach their goals and doing things that maybe they didn't think that they could do, that I saw in them, or even just things we were surprised by seeing," Bartlett said. "Seeing individual athletes grow in different areas is always fun."
Cheer's commitment to leadership, pride, and spirit in our community has not gone unnoticed. They are a vital asset to our Cougar Nation, and hopefully CKHS students have a better understanding of who they are and appreciation of their tireless work.