Inside Look at CKHS Art Teacher
Adams reveals the ups and downs of working in the art field
Way down in the CTE building, the walls of room 4018 are busy with the contrasting colors of countless works of art from students over the years. The floors and seats are coated in a thin layer of chalky dust, courtesy of the poetry students. Students are hard at work creating their next project and CKHS's art teacher Dawn Adams is working even harder to help encourage them to make the most of their time in class to create art and to have fun doing it.
Adams' teaching career began when she needed to find a more mobile career because of her husband's employment in the military. Despite that, her experience in art goes even further back.
Adams has expressed that she has had an interest in art her whole life. Not only that, she even worked professionally in a studio for a time.
Adams didn't hesitate to say the studio environment was "wonderful" but unfortunately also not conducive to an environment where one has to move around a lot.  This was ultimately the factor that led Adams to teaching.
¨When you're in the military you move all the time but to be a professional artist you have to create a clientele and that's really hard¨ said Adams. 
This is not the only hardship Adams believes artists face. Adams explained how in current times the commercialisation of art has heavily impacted artists and the value of their work.
¨Today there is so much mass production of things that the idea of authentically made work of art does not hold the same value it used to,¨ Adams stated. ¨It's kind of like how we used to pay a lot of money to get school pictures because a photographer would take them but now parents have these amazing iphones and take great pictures and now they don't have to pay for photos…¨
There are some upsides to this however. Adams went on to further explain that while the widespread commercialization of art can be problematic, it can also be beneficial in spreading the influence of art to people and showing them they can create their own works of art as well.
But studio artists aren't the only ones with issues. Adams also expressed some of the primary hardships that come with teaching art to students.
¨I think the most difficult thing about being an art teacher is getting kids to discover they don't have to be good at art and that the only goal for me for them is for them to enjoy it and just to learn how to enjoy creating¨ Adams said.
Hardships aside, Adams still finds her students to be her favorite part about working at CKHS as an art teacher. 
Her students also seem to have a similar attitude towards her. CKHS senior,  Lexie Fortney greatly enjoys having Adams as a teacher.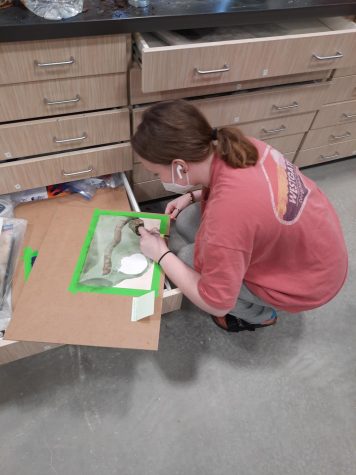 ¨She's really really nice and open minded, and I've never really seen her get mad before even when she has the right to.¨ Fortney said.
Fortney has had Adams as a teacher for both Advisory in sophomore year as well as Design for their senior year. 
Not only Fortney but former art student, Zeriah Ortiz, also greatly respects Adams.
¨She's super nice and she always wants what's best for students and is encouraging them all the time,¨ Zeriah says.
Oriz, also now a senior at CKHS, has previously had  Adams for both Drawing in freshman year and AP Art in Junior year. 
Both students also agree with Adams' opinion that effort is a much more important factor than talent in a high school art class.
After a bit of contemplation, ¨Effort is better because you put more of yourself into it,¨ is what Fortney says.
Ortiz also holds a similar opinion.
¨You can have talent but I've seen people who are very talented not produce artwork that was up to par with what they've done before just because they didn't want to put the effort in to make something they'd actually be proud of¨ Ortiz stated.
Ortiz explained that she believes another big issue she and many others face in their art class is the lack of motivation.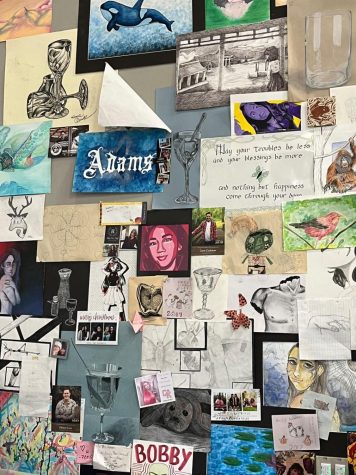 ¨For me I just make one good art piece and then I can never have the full motivation to actively try to do something better than that, especially in AP art…¨ Ortiz says. ¨That's why I struggled with keeping up with all the art we were supposed to do.¨ 
This is something Adams strives to help students with through her teaching.
¨I like her teaching style. She goes over everything in front of the class and then goes around helping the students who need it.¨ Fortney says.
Oritz also agrees and believes that Adams' support and the encouragement she gives to her students is one of the reasons she admires her so much as a teacher, as stated in a quote above.