"Speak Up"
Hang on for a minute...we're trying to find some more stories you might like.
In this day and age, there are many artists that are famous and well known and some that are trying to make a name for themselves. Twenty-one year old Jocelyn is launching her new debut single "Speak Up" out into the world.
In the chorus, the song tells of her standing up, being strong, and taking control of her life but that isn't the only time. When she sings "Sick and tired of the pain and games you played on me, stealing back my air it's time to breathe," it can be interpreted as being done with being toyed with and experiencing events that make breathing hard or impossible. Now Jocelyn's able to breathe and live like she was before and better now. She also asks "Can't you see that I'm doing better?" as though she's asking her aggressor if they can see her current state. Her music video also has its moments and also helps convey her message a bit.
Jocelyn's music video is uplifting with the fact that she is smiling and dancing a lot through out and in various places. Her video also shows that she's comfortable and happy in whatever she wears regardless of what people say. Jocelyn is also seen working on the song itself and even though she was told otherwise from viewers on social media, she continues to make her song. The scenery in the music video is also warm and homey with shots from the kitchen, her bedroom, to the studio where she records the song.
Before "Speak Up," Jocelyn became known when a viral video of her original song, "Just Like Everybody Else," got worldwide attention. As her music career has risen to where she is now, Jocelyn has performed on TV for Steve Harvey's "Showcase" at the Apollo Theater, and for Darius Rucker on an episode of "Celebrity Undercover Boss." She has also gained  attention from media in her own town. She became a staple in her local music scene and recently won Best Pop Artist and Artist of the Year at the Omaha Entertainment & Arts Awards. Currently, Jocelyn is working on her first full-length album and will be releasing music throughout the year.

About the Contributors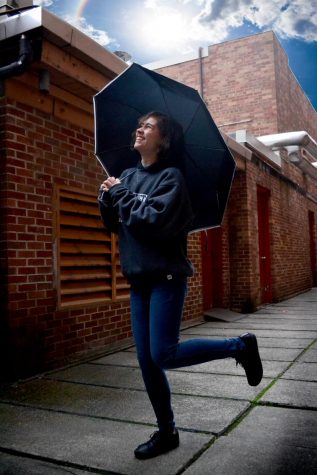 Jazmine Clewis, Contributor
Jazmine Clewis is a senior here at Central Kitsap High School and is one of our staff in the production class in journalism. Miss Clewis decided to take...