Porn Exists, And People Watch It
Through the internet, teens are able to access porn in a way never before possible, and the impacts make themselves known
Hang on for a minute...we're trying to find some more stories you might like.
Porn, one subject not easily defined by any law, is instantly recognizable to everyone. From the onset of puberty through the rest of a person's life, the presence of porn is everywhere, from saucy magazines to ads for websites where a person can meet hot chicks in their area. High schoolers, while young, still count as people, and a majority of them consume porn.
While most people are aware of printed material like Playboy, certain mangas, and romantic novels for middle age women, the internet is far more infamous for it's access to saucy material. Pornhub is the first one to come to mind, but there's are thousands of websites for people to access.  
There are many reasons people watch porn. Sometimes people are horny, other times they watch to check out from reality.
"I do it to relieve stress," one anonymous student stated. Although it is technically illegal for her to consume it, as she is under 18, there are many websites that do not have any way to truly indicate whether or not a person is of age. Access to porn is at an all time high, with research showing that up to 30% of the internet consists of porn. That number could easily be higher though, and no one can possibly regulate it. Not for lack of trying though, with the school's filters. However they only managed to block one website called "FornHub" within the last few months.
Porn has many negative impacts on people. There is a significant stigma against porn, despite the excessive amount of it in society. Another anonymous student says that she is embarrassed to watch it, even though she only watches it once a month or so. Emotionally porn can stunt a person, embarrassing them as well as raising false expectations in relationships. Sex takes more time and commitment than any film will show. It also is not as attractive as the film, and people who have sex don't have "perfect" bodies. 
Girls are shown sexiness consists of large breasts, slim figures and as little hair as possible. Men, meanwhile, are told they could only be good if their penis is large and their abs are defined enough for the dictionary. Very few people in the world fit into that mold, which can lead to eating disorders and depression.
There is no easy way to fix any of the problems. Some psychologists say there should be more comprehensive sexual education courses in school in order to steer children away from porn. Others, like LifeLine For Youth (a program to help teen addicts) say that parents should be open about the subject before teens even start exploring In the end, no one can stop a person from watching porn. Sex is ingrained in our society in a way that nothing can ever erase it, not even internet filters or potential punishments can stop people from searching out ways to get off. Porn isn't the most harmless method, but it's the most popular. The only option is to go about it in a safe and healthy manner.
About the Contributor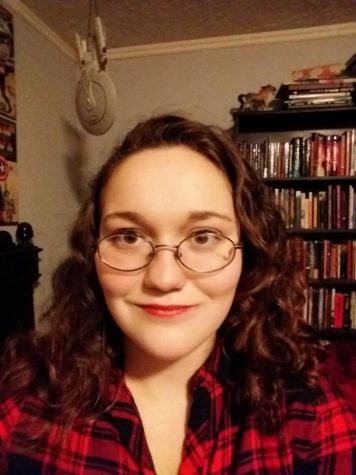 Victoria Steffee, Editor
Victoria Steffee originally started taking the Journalism class to receive CTE credit when the class still counted for it. She grew to enjoy the class...