The Life of A Sailor
Personal Profile of David Dennis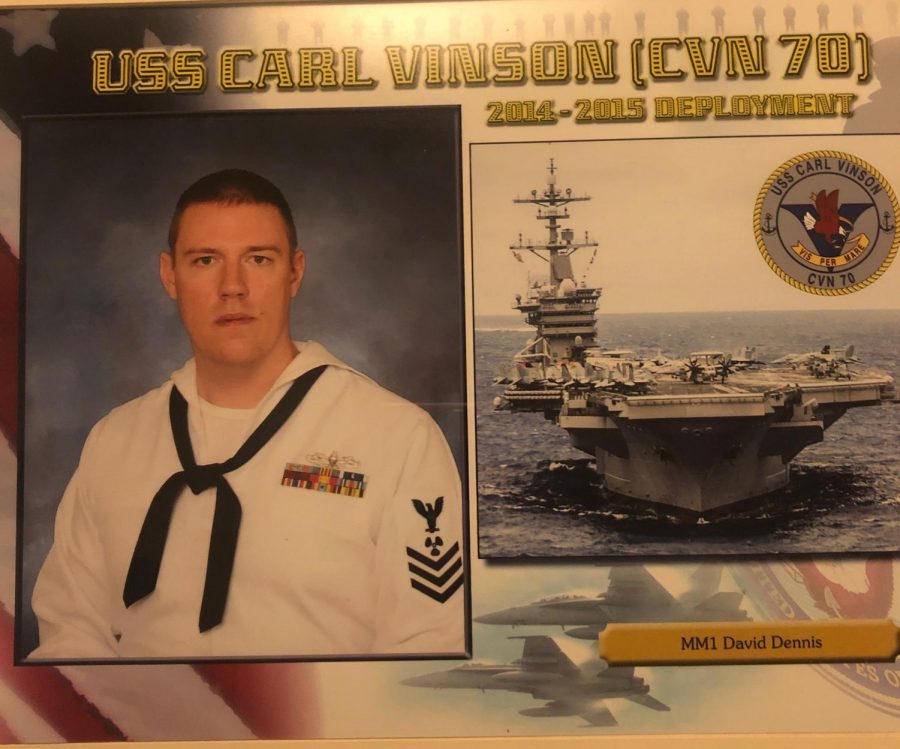 by Arianna Reyes, Reporter

Up at four o'clock AM , clocked in by six o'clock AM is the life of a sailor. Four relocations, three reenlistments, three deployments, more than 50 underways, and absolutely no call off days, is what life sounds like for David Dennis who works for the United States Navy.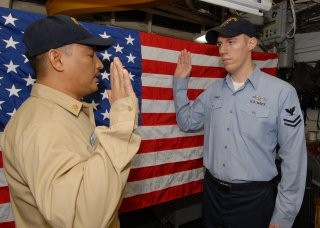 Most people do not know the importance of what it means to be in the military.  The purpose of the armed forces, in the United States, is to protect the nation's citizens and territory from threats.  Historically, without having a military the United States wouldn't exist. It was an organized revolutionary army that earned us freedom. 
So thanks to the hard dedication of David Dennis who is one of the many sailors serving for our country. His specific job is to produce oxygen for pilots and medical wings on the ships. He takes atmosphere air and breaks it down to liquid form into two components, oxygen and nitrogen. 
Unlike many others, the career Dennis chose to pursue was one that he'd always wanted to do ever since he was in seventh grade. It did slightly change a little because as a senior in high school, he considered being in the Army rather than the Navy.  His aunt, who performed for the USO during the Vietnam War, tried to talk him out of joining the military. He eventually reconsidered going to college and go towards that direction because in Upper Arlington, OH where he's from, it was expected to go to college right after high school. "College was something I attempted to do and I quickly realized that it wasn't something for me," Dennis explained. 
After realizing that college wasn't for him he decided to just have a small job and he'd just work there for a few years. "I had a buddy who was joining the Air Force but then later ended up with the Navy and he asked me if I'd talk to his recruiter and I said yeah, but there's no way I was going to join the military right now." 
"Well after talking to the recruiter and actually thinking about where my life was and what I really wanted to be doing, I said, 'alright I'll try this Navy thing out for four years,'" Dennis said. 
Twenty years later Dennis has served for 16 years and is ranked as an E6 MM Mechanist and working on becoming a chief during his next four years that he recently just signed for. "I never really looked back and said, 'oh I wish I had done this or that', I've always been pleased with staying in the military," he explained. He hopes to serve at least 20 years then he'll retire.
Being in the military not only benefits Dennis, it's benefiting his family too. "Serving in the military can be very beneficial, there's a lot of training that I've gone through the military that I can use in the outside world and make very good money doing it." When someone serves for any branch of military, you earn something that's called a GI bill.  The GI bill is designed to help service members and eligible veterans cover the costs associated with getting an education or training. Dennis is splitting his GI bill between his two daughters so they can use it for college.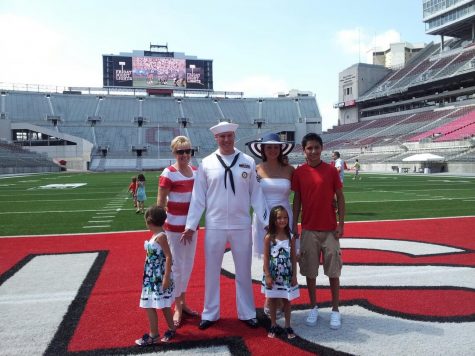 Dennis's family and friends appreciate him so much for his dedication and hard work. His wife and two kids are there supporting him every step of the way. His family not only has one member serving, it's his entire family who is right there serving with him. Every state the Navy puts them in, every deployment Dennis has to leave for, all these sacrifices his family and himself go through is what it takes to be in the military. 
His daughter Abygail Dennis lives a very unique life, very different from any other 12 year old. Having to move around every three years isn't your average child hood.  "Moving around a lot can be a good and bad thing for me, I've been to at least four schools and I'm only in 7th grade, she explained. It's good because it gives me the opportunity to go to places I've never been to…but it's bad for me because I'm always losing close friends."
"It takes a lot of self sacrifice, especially with individuals who have families , or in some cases meet their family… you're always going to have to give up time away," Dennis explained.  Dennis has missed holidays, weddings, birthdays because of his work. "That just kind of comes with the territory and you have to be willing to expect that going into the military," he said. 
William Richmond, a shipmate of Dennis on the Carl Vincent, described him as, "a hard working comedian". Richmond has served for 18 years and has known Dennis since 2009. Richmond especially values what a long way Dennis has come because he came into the navy with no training. So for him learning the in depth of cryogenics and detailed repair, Dennis has some great responsibilities, "You know it seems like normal everyday stuff.. Checking for maintenance and stuff but if you mess up on a system like that people could die," Richmond explained. 
Dennis takes great precaution with his work making sure nothing goes wrong.  As he once said, "Long hours sometimes stressful situations and things you can't always control.. but you can't concentrate on those you got to concentrate on the positive as much as possible and that's what keeps you going."