CK Sports Med Students Leave State Competition With Powerful Message and Two Awards
CK Sports Medicine team Mark Mckee, Ally Toms, and Austin Selby presented in a student forum about their friend Hayden Werdal's perseverance through his struggle with a rare disease called AFM.
Hang on for a minute...we're trying to find some more stories you might like.
After a few drizzly, grueling days of testing and presenting in a student forum, Central Kitsap High School students Mark Mckee, Ally Toms and Austin Selby proudly walked out of the Sports Medicine Spring Symposium Competition in Tacoma with two first place awards. This competition was especially meaningful for them, because their case presentation (which brought many audience members to tears and received a standing ovation) was about the rare disease that Mckee's best friend Hayden Werdal has wrestled with for years.
CKHS placed sixth in the state in the medium-sized school division, and received two different awards from the student forum competition. "Our first first place was based on a perfect score we got from the judges and the second was the student's choice award where the students chose the best presentation," explained Mckee. In the student forum, teams of students have to present a disease and case study to everyone at the competition, and are judged on their presentation based upon the rubric. Mckee said that they had five days to memorize and practice their 10 minute presentation, which he felt was personally rewarding despite its challenges.
The competitors undergo an intense schedule for the duration of the competition; they must complete more than four 100-question tests over various subjects relating to Sports Medicine in two days. The tests include anatomy and physiology, exercise and physiology, cpr and first aid, and a few more. As Mckee described, students taking a Sports Medicine class or participating in a club come to the competition to compete with other schools and gain insight into the field from keynote speakers. Toms added that in addition to the case presentations and tests, they also have fun participating in a scavenger hunt during freetime.
"The competition this year was at the Tacoma Convention Center," said Toms. "Everyone competes individually and can earn awards that way, but scores are compiled as a whole team for overall awards. Testing is stressful and tiring, but it's fun for the experience and you feel really accomplished afterwards if you test well."
One of the most memorable events of this years competition was the student forum. Mckee and Toms (as well as Selby, who was not interviewed) presented a their case study about someone close to their hearts: Hayden Werdal, Mark's best friend since childhood. Werdal developed an extremely rare disease called Acute Flaccid Myelitis (AFM), which affects the gray matter in the spinal cord. Although at first symptoms only resemble the common cold, it quickly results in paralysis or droopy facial features. In Hayden's case, "he got a cold and became paralyzed from the neck down in 3 days," said Mckee. "It is affecting more and more people as seen in a 200 percent increase since the first outbreak last year with cases of children all over the US becoming paralyzed by an unknown illness. It needs more awareness and funding to find out why children are becoming unable to move."
What made their presentation especially heartwarming was that Werdal attended the competition with them so he could hear them speak about his disease. "The speech CK was giving pertained to me and I wanted to be there to support my best friend Mark Mckee," he said. "I felt really proud of them, especially because of how well they presented. Their speech meant a lot to me because it meant that people may start to learn about AFM." There have been about 558 cases since 2015, but there is still very little that is known about AFM.
Werdal's health has improved significantly since his diagnosis with intense physical therapy. He can now function for many more hours in the day. "For therapy I do 2 hours on Mondays and Wednesdays and for Wednesday I do pool therapy," Werdal explained. "I used to be in a lot of pain after only 7-8 hours but now I can do 12-13. I can move my torso more than I could before. Also my left arm."
Werdal described his disease as very similar to polio, and possibly related to it. He hopes that others who are living with AFM continue to persevere, as he has. Werdal also hopes to go to medical school so that he can become a physical medicine and rehabilitation doctor.
Mckee also plans to pursue a career in medicine, as a physical therapist. His best friend's story has inspired him to help others who need physical therapy, and he said that the Sports Medicine class "has helped indefinitely. It lays the foundation and gives you a passion for the field of medicine. And sticking in sports med is great as you can get your CPR certification in 1 year and basic life support the next and after 3rd year you can take the personal training test to have a good job coming out of high school, and it looks great on resumes."
When asked what presenting about his best friend's illness meant to him, Mckee commented "the chance of sharing my best friend's and my story was riveting and frightening. Having my best friend there made it even harder as my emotions almost got the better of me during the presentation."
"This needed to happen," Mckee said, "and as a bonus we won and helped our school. The chance to present meant a chance of changing my best friend's life for the better in the long run. He has remained strong through everything and needs the recognition, and so does his disease."
Toms said, "I wanted to make Hayden Werdal proud of us for bringing awareness to his case and disease. My heart was so warm after and I felt like we made a huge impact on many people within the crowd. I'm hoping that one simple presentation will start to bring awareness to this rare, yet very dangerous disease."
For students interested in a career in medicine, both Toms and Mckee highly recommend the Sports Medicine program. "It's what made my high school experience what it is. I would definitely recommend it but it is not for everyone," said Mckee.
Toms explained that students "can start as a sophomore and can be involved up to 3 years. Sports med is perfect for hands on/visual learners. Plus, the class is easy if you do the work and pay attention! Lastly, Ahlstrom is an amazing teacher to be around and he will make class 100 times better!" She encourages other students to join the team.
The award that CK Sports Medicine students Mark Mckee, Ally Toms, and Austin Selby was well deserved for a presentation they were passionate about. Especially because their main motivation appears to have been motivating their friend. "It really felt great to finally have our hard work pay of and my best friend's disease in the minds of 900+ future medical professionals," said Mckee, "he deserves the world and more."
About the Contributors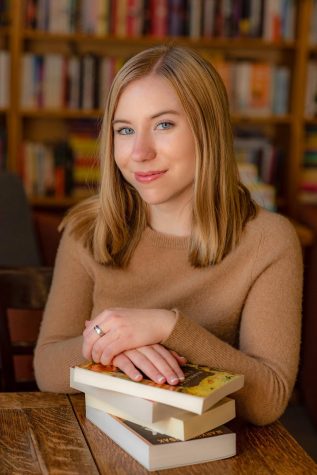 Aina Zabinski, Editor
Aina Zabinski is the Editor in Chief of the Cougar Chronicle. This year is her first year running Cougar Chronicle and the first semester has gone very...